One of the warmest cities in Germany, with 1,700 hours of sunshine a year – in Freiburg, summer often starts a little earlier than in the rest of Germany. But there are always plenty of opportunities to cool off throughout the city, because our hotel in Freiburg is close to Flückigersee, the famous 'little lake' surrounded by green oases.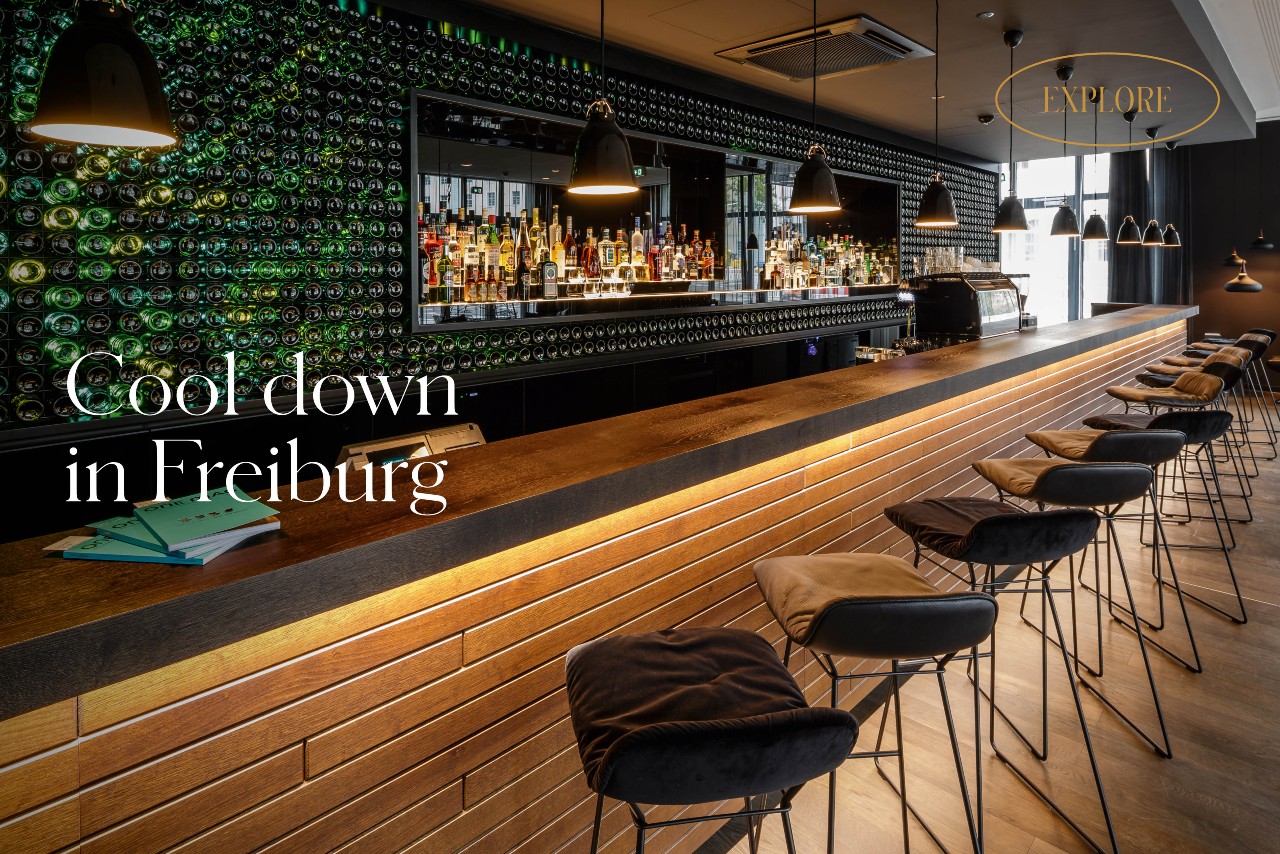 Our hotel in Freiburg
Located just 10 minutes from the city centre, Lake Park is a genuine recreational paradise. People rarely ask 'How far is Flückigersee from Freiburg?' because Flückigersee is part of the city, thanks to its location in the middle of Freiburg's Betzenhausen district. The lake is located on the 35-hectare site of the former State Horticultural Show, where you can relax with a book in the shade, enjoy a pedalo ride, swim or simply go for a walk.
If you are feeling adventurous, you can dive in search of the pirate ship that sailed across the lake during the State Horticultural Show and was sunk when the park opened.
Enjoy the water: from Freiburg to Flückigersee
Public transport
You can quickly travel from Freiburg to Flückigersee via all means of transport. The easiest way to get from the centre of Freiburg to Flückigersee is by public transport. Betzenhauser Torplatz is just a few minutes' walk from Motel One. Tram no. 1 departs for Bischofskreuz from there. It takes around 20 minutes to get from Motel One Freiburg to Flückigersee.
By bike
You can cyclefrom the centre of Freiburg to Flückigersee in just 10 minutes – making it the quickest way to travel from Freiburg to Flückigersee.
By car
Although you can drive from the city centre to Flückigersee west of Freiburg, there is limited parking at Flückigersee.
Follow the water: A stroll through the old town is also a must in Freiburg, of course. What is special about this Black Forest city is that while ambling through the historic streets, you not only pass the main sights such as Adelhauser Convent and Freiburg Cathedral, but also repeatedly come across shallow streams. These 'gutters' have always been part of Freiburg and according to city legend, also ensure that you will never want to leave Freiburg. Because any single person who accidentally stumbles or falls into a gutter has to marry a Freiburger.
Children's entertainment: These gutters provide suitable entertainment for families travelling with small children, who can pull a wooden toy 'Bächle' boat alongside them on a string while playfully exploring the city.
Below ground: The Schauinsland Mining Museum is a little way out of the city, but ideal for escaping the heat. In this former silver mine, you can explore the winding passages in the tunnels, climb several metres via ladders and also marvel at the original machinery.
Fancy something exotic? Then visit the Botanical Garden at the university. This small park in the Herdern district showcases Mediterranean and tropical flora both in greenhouses and outdoors. You can dream of exotic places, rest your feet after strolling through the city and enjoy the shade on sunny days.
Running water: You don't have to travel from our hotel in Freiburg to Flückigersee to cool off. A quick dip in the Dreisam River will suffice. This shallow waterway forms steps and pools in the city. You can take a refreshing swim within a 10-minute walk of the hotel.
Wine tour: Freiburg is surrounded by vineyards. If you enjoy fine wine, you should take the opportunity to tour the surrounding vineyards. Kaiserstuhl is nice, for example. And the vineyards in the Vauban district are easily accessible.
Nestled among vineyards and with many balmy summer nights, Freiburg celebrates in style during the summer.
Schlossberg Festival: This festival has been held at Stadtberg every August for 40 years. Visitors eat and dance to a range of music under the stars. By the way, there is the right musical accompaniment for every musical taste – from electric to salsa – on various stages, from the moat to the castle. As night falls, fairy lights create a romantic atmosphere.
At the Bächle Picnic, it's time for couples, family or friends to find a cosy spot along the Bächle, chill out and enjoy. Picnic packages are available ready-packed for pick-up.
Hocks: In Freiburg's neighbourhoods, hocks are celebrated all summer long. Hocks are relaxed gatherings with local wine and beer, as well as traditional food. These culinary urban festivals are accompanied by music from local groups.
Zelt-Musik-Festival (ZMF): The ZMF has been held in Mundenhof every July since 1983. Access to the site is free. Cabaret, concerts and performances take place on the site's three stages. You can also listen to concerts by national and international artists in the tents (subject to a fee).
Freiburger Museumsnacht: do you enjoy history? Then visit the Freiburger Museumsnacht in July. Numerous cultural venues provide insights into museums and concerts, as well as fascinating guided tours and interactive events.
Freiburger Weinfest: Freiburg without wine? Almost unimaginable! Wine and life are celebrated during July in the square around Freiburg Minster, where wine from the Breisgau, Kaiserstuhl and Markgräfler Land regions is served, along with Baden specialities.