We're sure you'll have come across it already: 'mobile working' has become one of the many trending terms in the last years. It refers to a form of working not tied to a physical location or set working hours. Across the world, around 70% of employees spend at least one day a week working outside the traditional office environment, instead setting up their workplaces wherever they like: in a café, at a beach bar or in their favourite Motel One lounge. So tempting, yet so much potential for distraction! Far from the familiar work setup in the office, you may find it hard to establish the working environment you're used to.
To be able to keep motivated and concentrate on working through your to-do list, you need structure: a structured approach is the key to focused work. Task lists and fixed work routines help you to keep track and stay on top of things. Apps like Trello and Todoist can help with this. Alternatively, you can divide the day into individual sections during which you only deal with specific projects. Just as important are breaks. Getting a few steps in at regular intervals, taking a few deep breaths and then getting back to it, helps maintain focus and clears a fuzzy head. This is also important in the office, by the way, as well as for mobile working.
The ideal mobile workplace?
We can think of over 80 of them – our One Lounges have got everything you need for mobile working.
Discover our Top 12 One Lounges for mobile working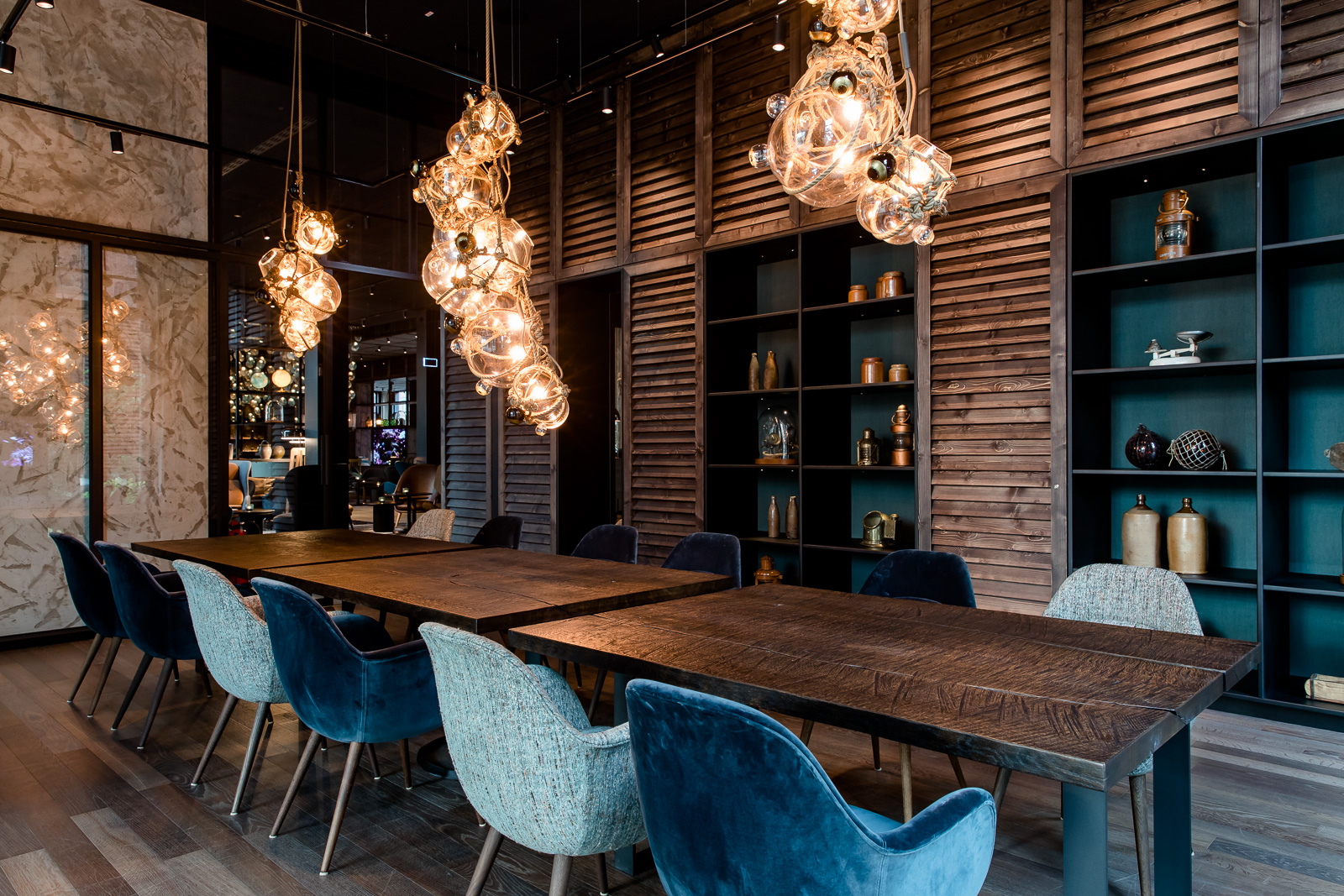 Motel One Hamburg-Fleetinsel
WORK ON THE HIGH SEAS
At Motel One Hamburg-Fleetinsel you can get to work in your own cosy cabin, or else on deck – aka in our One Lounge. Three workbenches offer plenty of space for your laptop, etc., and when visibility is good and the water is calm, our outdoor terrace can quickly transform into a mobile workspace.
Motel One Essen
WORK LIKE IN THE GOOD OLD DAYS
Here, our interiors will take you on a trip through time right back to the 1950s. You'll soon forget about space and time and your day of hard work will pass by in a flash. A conference room is available at Motel One Essen for larger meetings, equipped with a projector, screen, flipchart and whiteboard.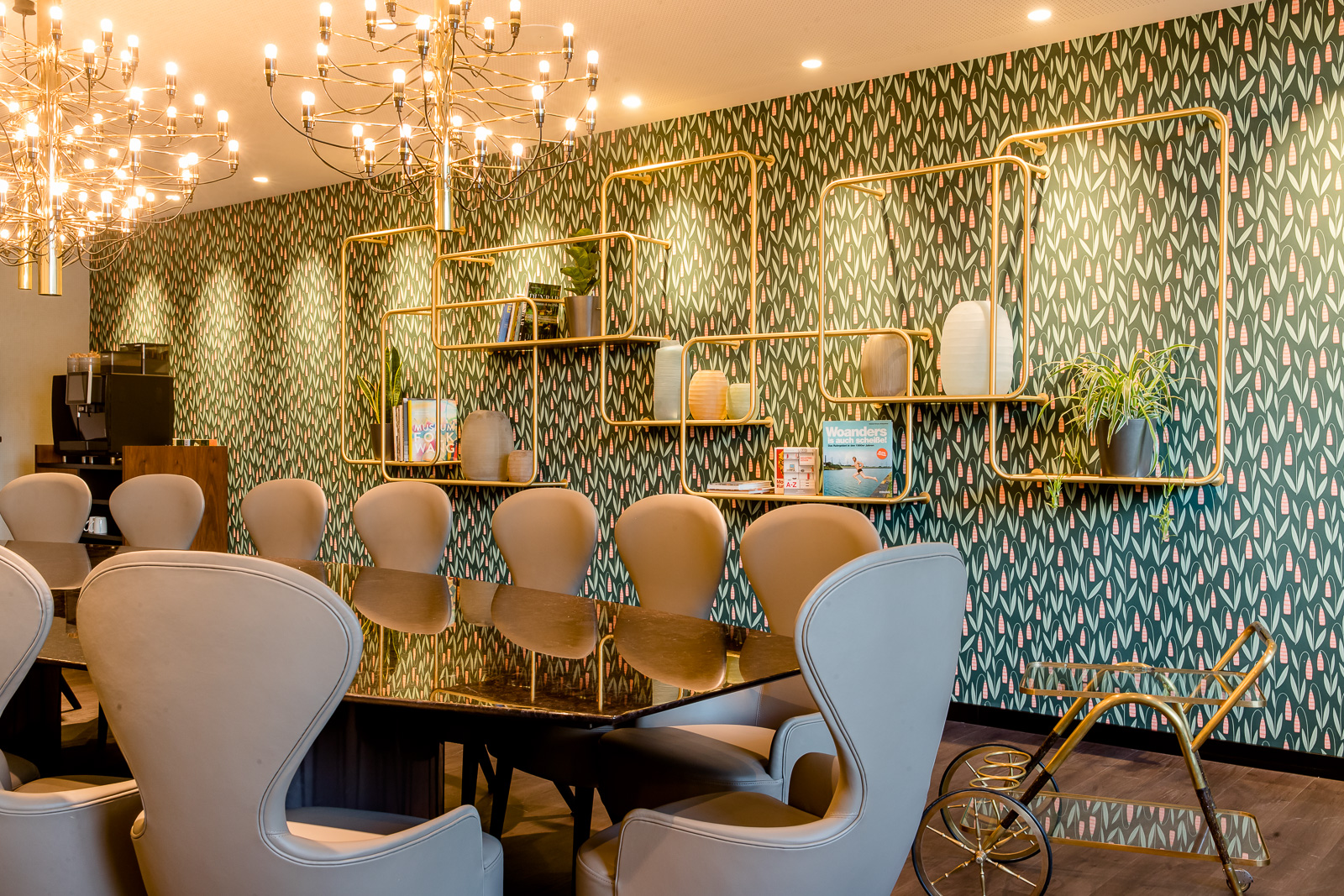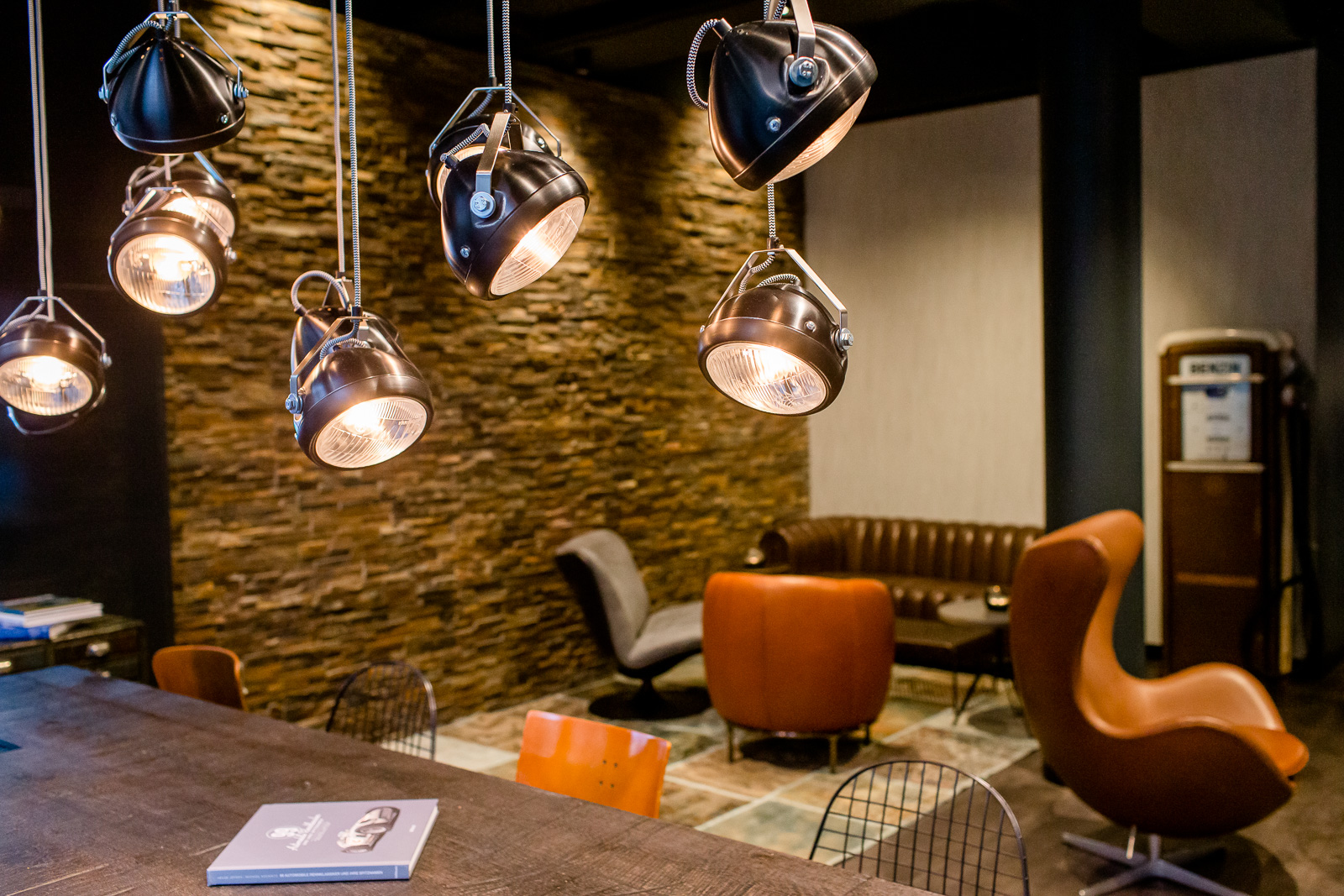 Motel One Frankfurt-East Side
WORK IN THE FAST LANE
Go at full throttle during the day, then shift down a gear in the evening. There's nowhere better than in our Motel One Frankfurt-East Side, where the interior design revolves around vintage cars and vehicles. At the authentic-looking garage workbenches under the light of car headlights you can get stuck in and start putting together...your PowerPoint presentation. Then head straight to the bar, where a well-deserved after-work drink awaits you.
Motel One Linz-Hauptplatz
WORK AT FULL SPEED
On to the next stage: the conference room decorated with bicycle bells, lights and saddlebags in our Motel One Linz-Hauptplatz will have you firing on all cylinders. If the deadline – or finish line – is still not in reaching distance for you then get comfortable in between the glass and graffiti art in the One Lounge.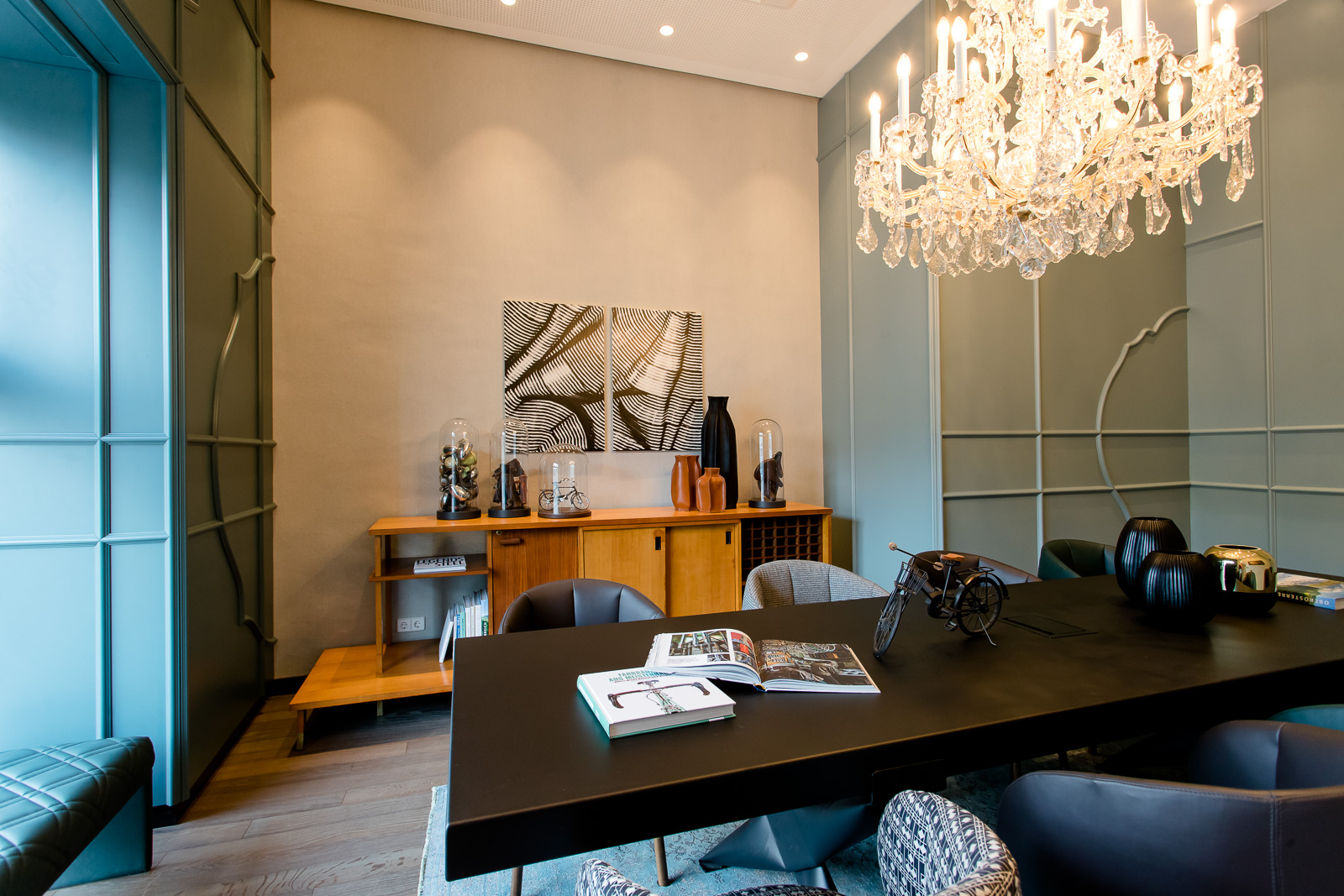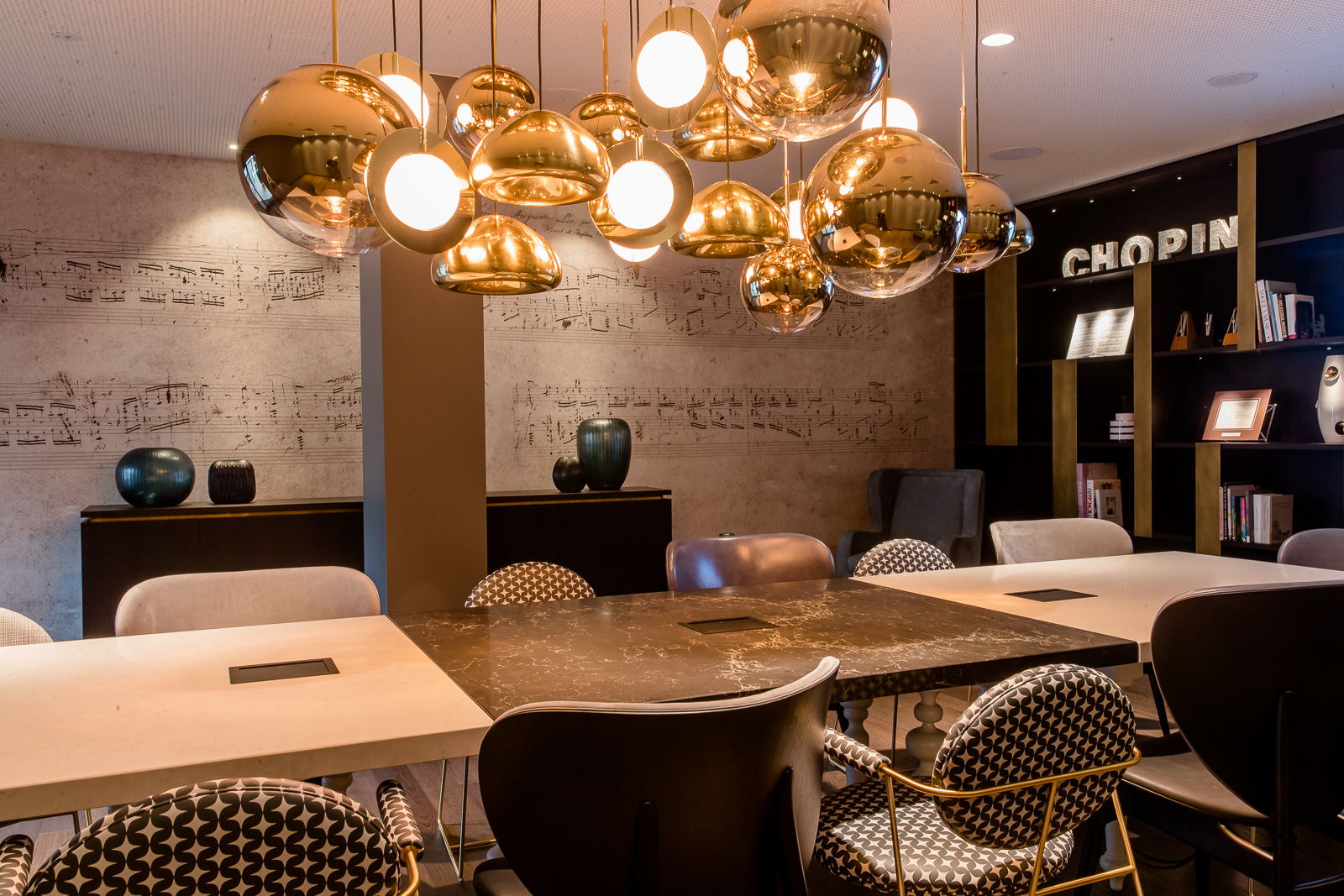 Motel One Warsaw-Chopin
WORK WITH MASTER COMPOSERS
At the Motel One Warsaw-Chopin, amid piano sofas and sheet music, the spirit of Chopin and his work will motivate you to create your own masterpieces. Above all, the hotel's meeting room will get you inspired to compose, conceptualise and firm up your ideas.
Motel One Cologne-Messe
WORK IN FRONT OF THE SCREEN
Time for a change of scenery – in the truest sense of the word: large-scale wallpapers with retro patterns create a very special working environment at Motel One Cologne-Messe. And don't worry – the tube TVs that adorn the walls of the One Lounge in line with our 'Cologne Media and TV City' design theme​shouldn't pose too much of a distraction! Two conference rooms are also available if you're after a little more seclusion.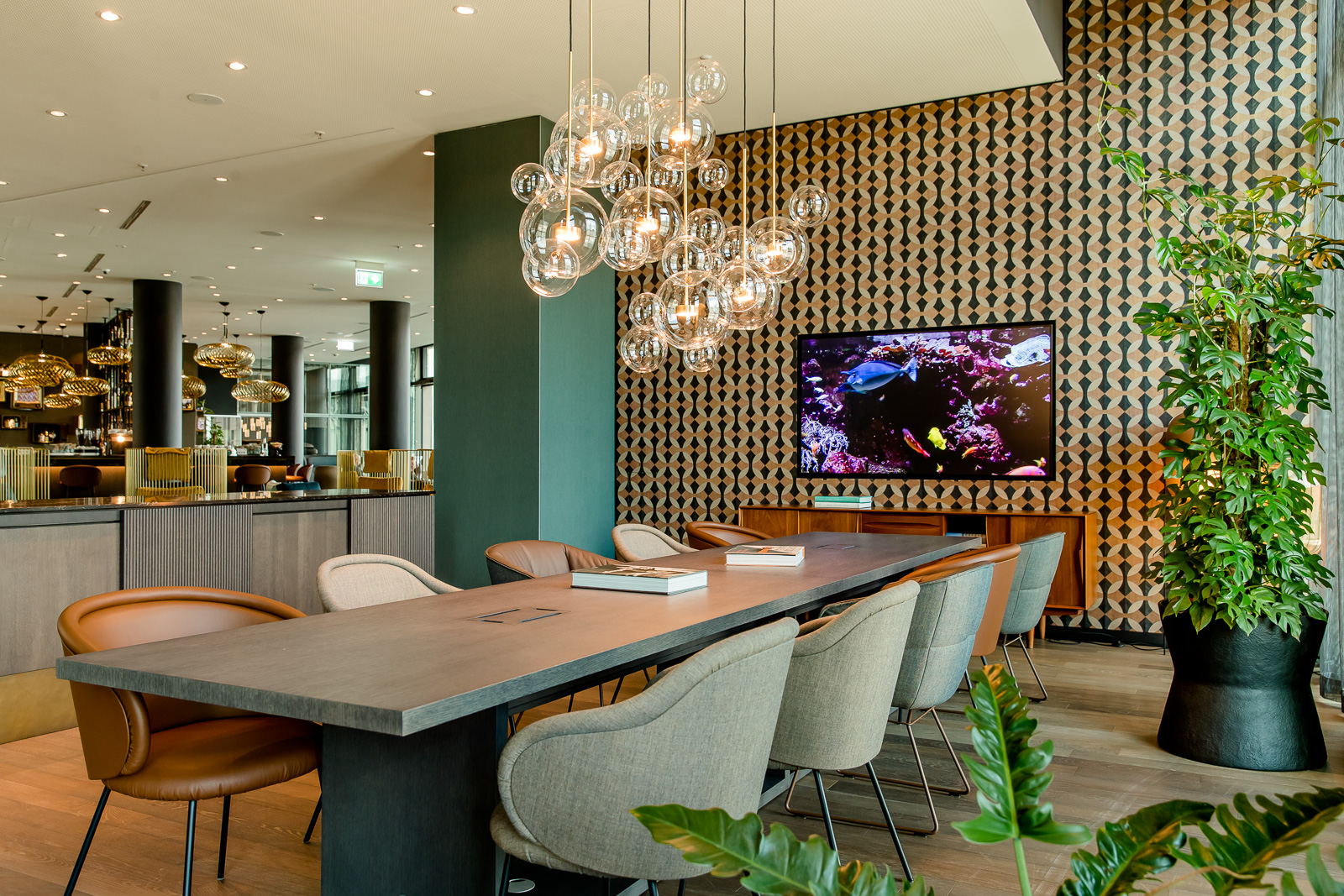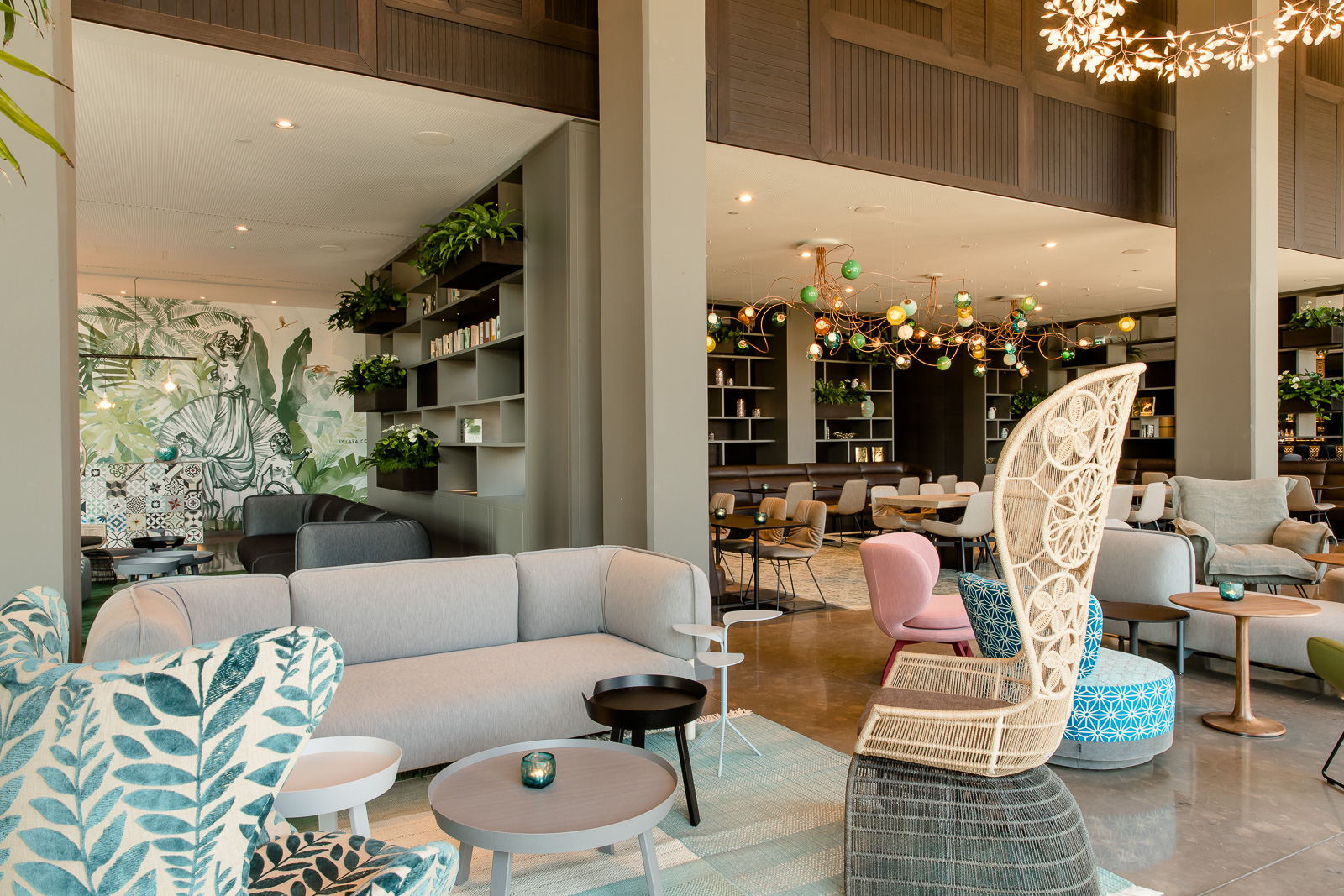 Motel One Barcelona-Ciutadella
WORK OUTDOORS
If the sun beckons you outside on workdays, then you can't do much better than our Motel One Barcelona-Ciutadella. You're guaranteed to find a quiet spot to work out on the (roof) terrace. Even inside, you'll feel like you're outdoors. With its botanical wallpaper, green plants and dragonfly lights, you'll get a taste of what's to come at the Parc de la Ciutadella nearby, where you can take an evening stroll after work.
Motel One Bonn-Beethoven
WORK IN A MUSICAL SETTING
You'll have a very classic working day at the Motel One Bonn-Beethoven – quite literally!
Here, our workbenches have a special highlight: connect to the audio ports and listen to Beethoven's classic works – perfect for concentrating and focused work. If you fancy something more acoustic then check out Motel One's own playlists on Spotify and Apple Music. Further sound stations dotted around the lounge area also provide a multimedia experience of the hotel's artwork.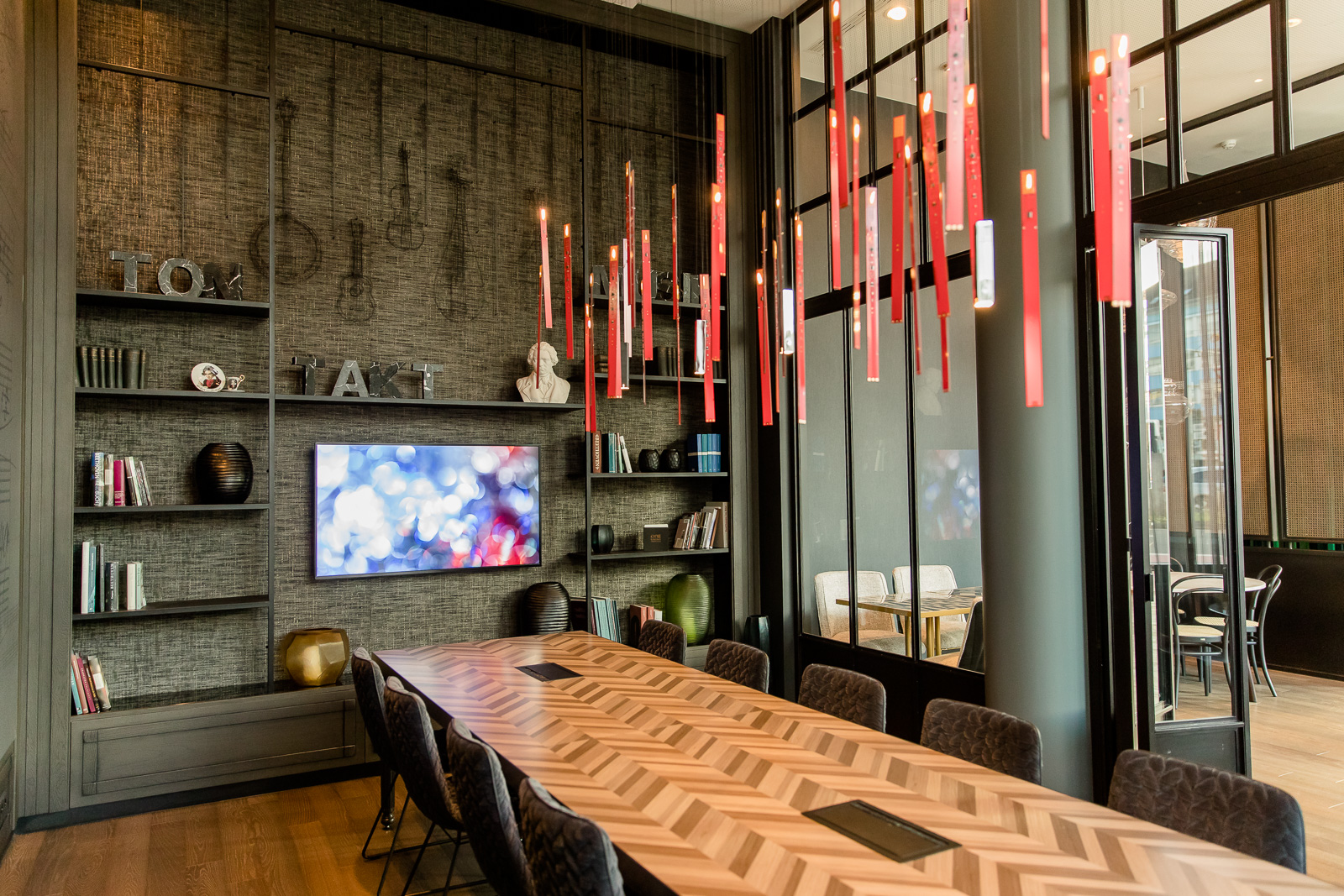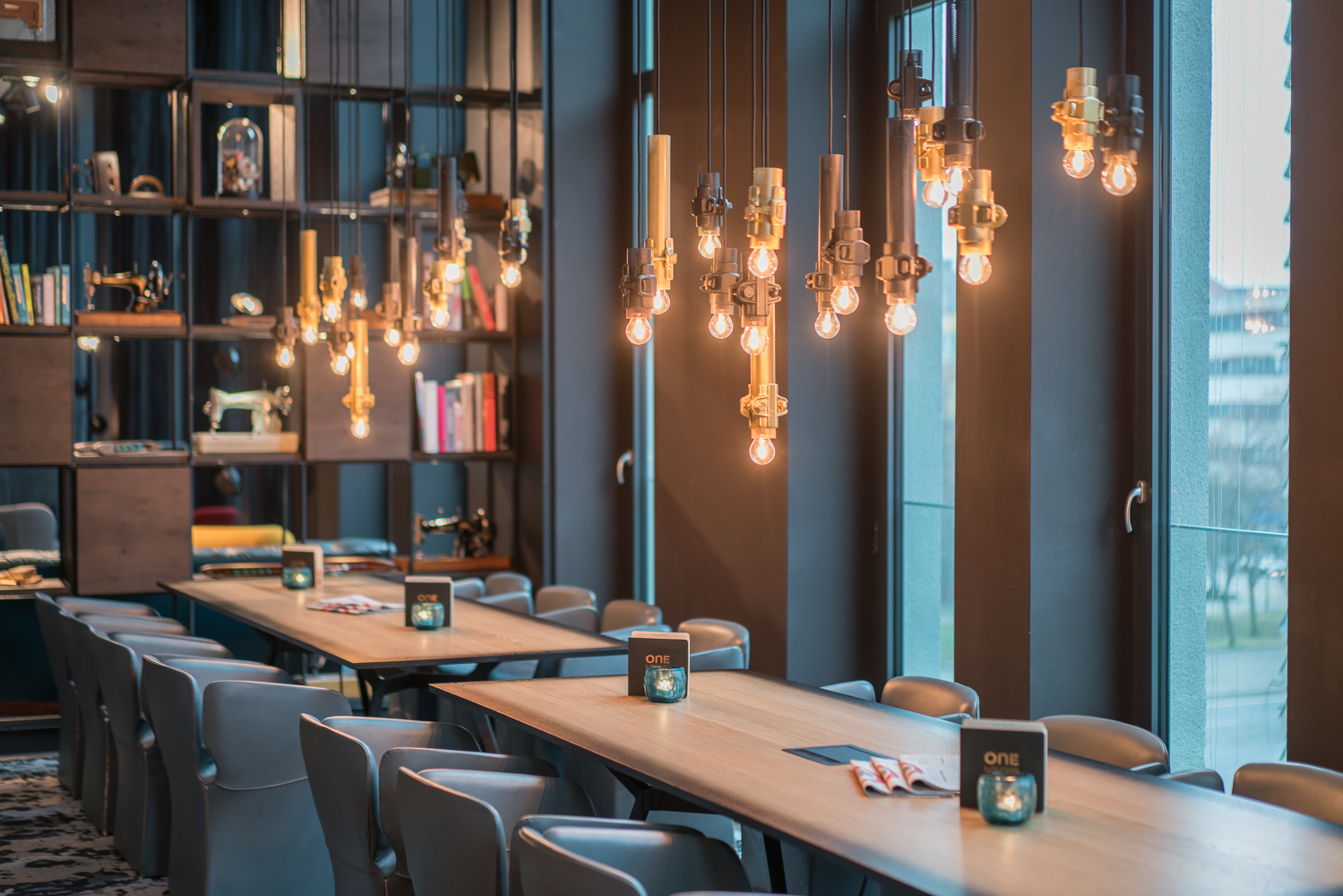 Motel One Berlin-Alexanderplatz
WORK IN THE STUDIO
Our Motel One Berlin-Alexanderplatz lounge is the perfect place to get inspired and creative. Graffiti, fashionably designed seating and coloured lights – in keeping with the 'fashion meets street art' design motto – make the perfect backdrop for a video call to impress your colleagues.
Motel One Munich-East Side
WORK WITH A VIEW TO THE EVENING
Almost done! The design of Motel One Munich-East Side will give you plenty of ideas for after-work activities in the 'cosmopolitan city with a heart'. Beer garden? Eisbach? Take a moment to think about it. But before it's time for that, the multi-faceted design will stimulate new ideas and food for thought that you can put straight on paper (or a Word document) at the chic workbench made of dark wood and surrounded by greenery.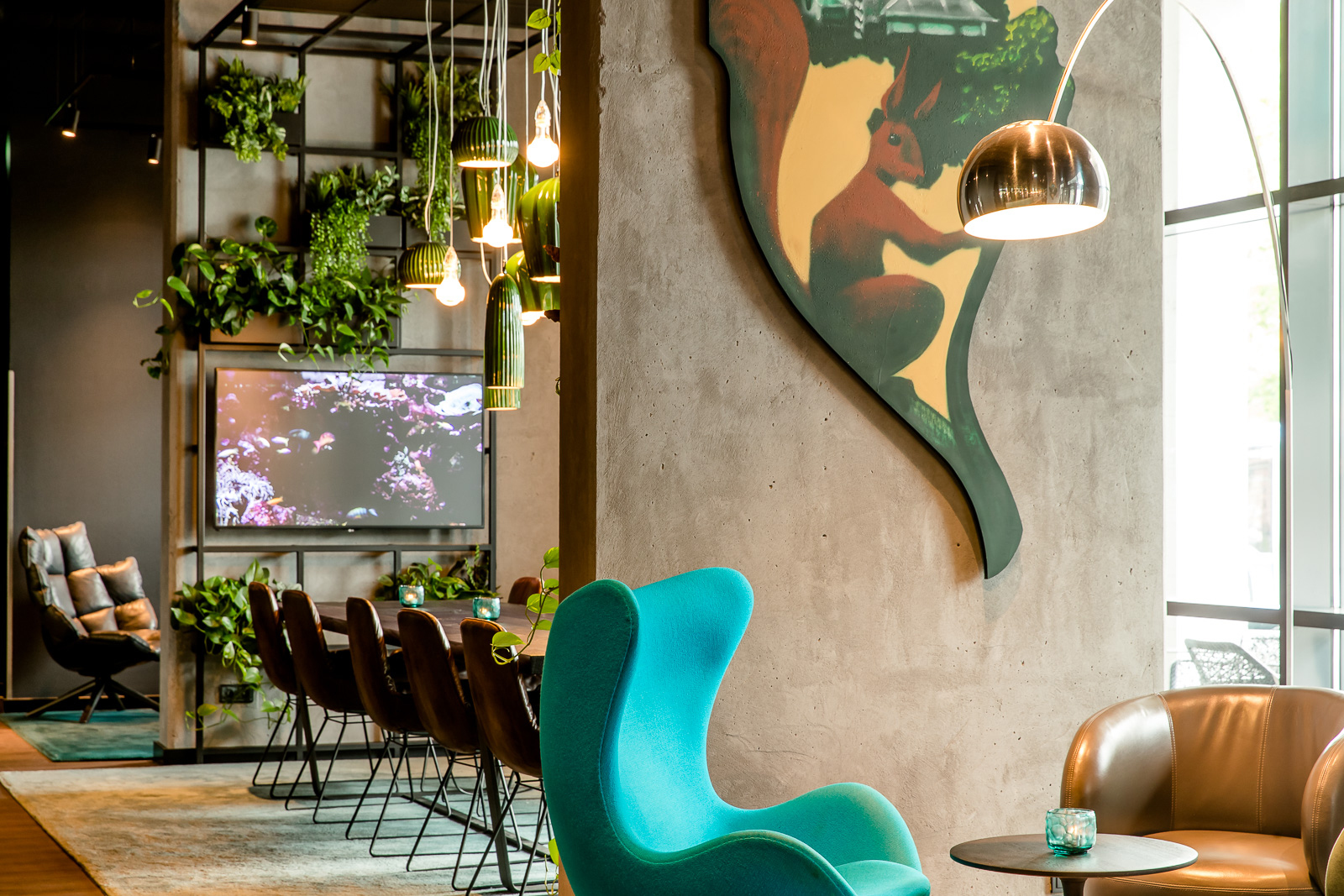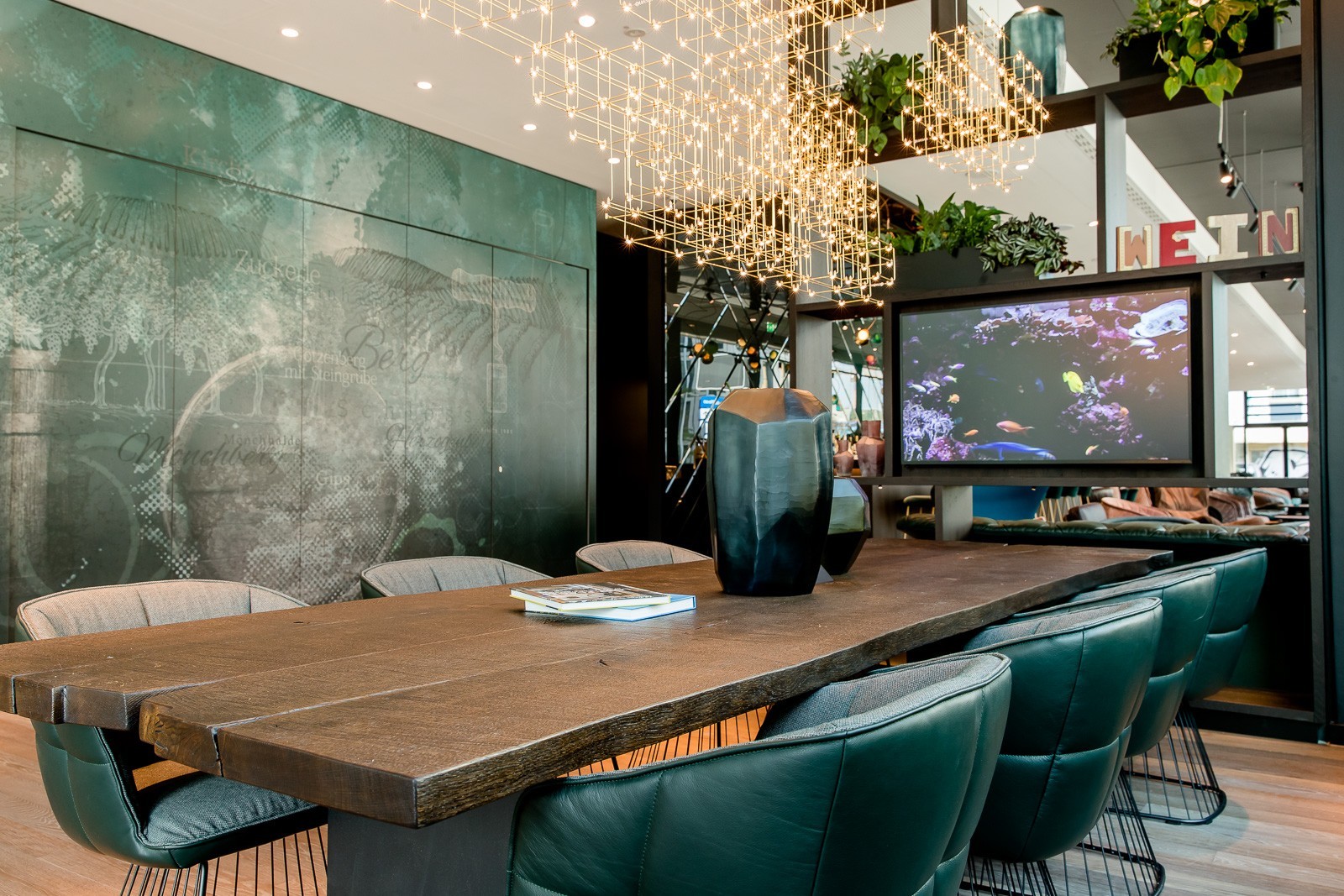 Motel One Stuttgart-Hauptbahnhof
WORK WITH INVENTIVENESS
Where Daimler, Kärcher or Ritter created their inventions, brilliant ideas can't be far away! In the work area of the Motel One Stuttgart-Hauptbahnhof, the best conditions are created for intellectual flights of fancy: The green in the chairs and walls is, after all, the colour of calm and serenity, so you should be able to master any challenge, no matter how difficult. And the winely interspersed details all around should inspire you for the final benchmark: closing time.
Motel One Nuremberg-Hauptbahnhof
WORK WITH EXAMPLES
"Oh, how often I see great art and good things in my sleep, the like of which I never see when I am awake." - We hope that you do not experience the same fate as Albrecht Dürer described here and that you will find artistic ideas and inspiration at this workbench, even when you are awake. The script studies engraved in the room divider by Nuremberg's famous graphic artist, mathematician and painter are proof that - even if it takes a while - successful results are not out of the question. So scribble away, our copper-style luminaires provide illuminating moments!