More budget for gift shopping! The perfect city break destinations this winter
In the coming weeks, Europe's metropolises will once again be transformed into magical winter wonderlands with a variety of cultural sights, activities and culinary delights.
But a city break now? When prices are rising everywhere? We have checked, calculated - and produced a study that shows which popular European cities offer the best value for money (based on current average price data) for a four-day city break. So that there's still enough left over for Christmas surprises!
Here is our result: a top 15 list of well-known European metropolises - but also some surprising insider tips.
Speaking of value for money, you will of course also find Motel One hotels in more than half of the destinations. Happy travelling!
THE TOP 15 CITIES IN EUROPE FOR AN AFFORDABLE CITY BREAK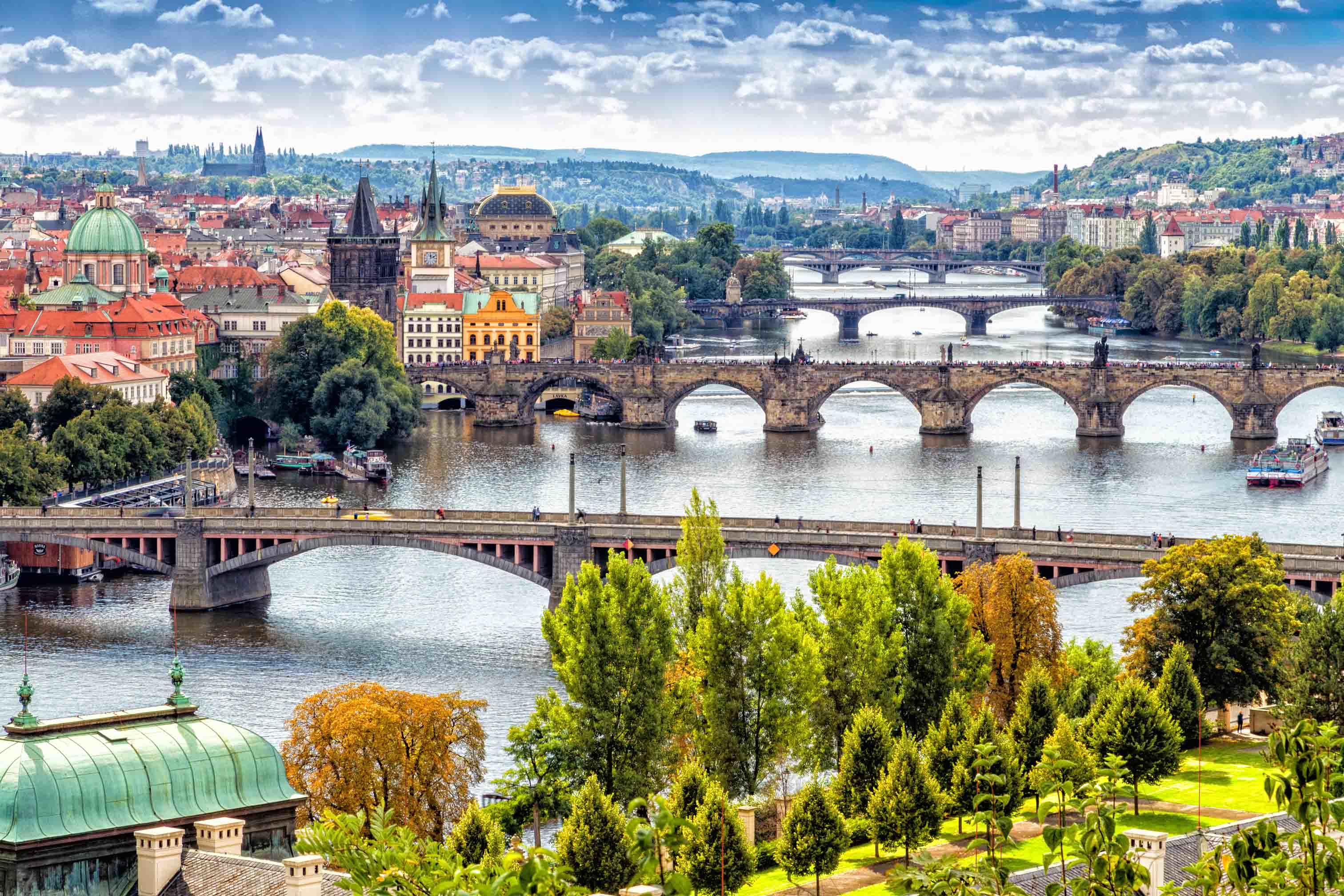 1. Prague, Czech Republic
Estimated total cost: €485
Recommended daily budget: €42
Top city attraction (plus cost): Prague Castle and St. Vitus Cathedral, €0
Prague officially tops our list as the most affordable city to visit in Europe – clocking in at just €485 for an average four-night getaway. Compared to other cities, Prague has slightly higher additional costs, but offers unbeatable value for money in terms of overall costs.
But this city is the very definition of cheap and cheerful. It's one of the most beautiful places to visit year-round, with a café culture that makes even the longest winter night feel warm. Prague's top attractions are mostly free, too – including the famous astronomical clock. You've just got to see it in action while you're there.
2. Riga, Latvia
Estimated total cost: €497
Recommended daily budget: €50
Top city attraction (plus cost): Riga Central Market, €0
Less well-known but growing in popularity as a destination is Riga, the capital city of Latvia. Boasting the lowest average hotel cost per night, and with over 100 free things to do in the city, Riga is an architectural and cultural hotspot in the Baltics.
It's great for walkers, with a fully pedestrianised Old Town that fans of Mediaeval history will love. Riga Central Market is the most visited and highest rated attraction in the city, and it's free to visit, as long as you can resist buying everything you find there!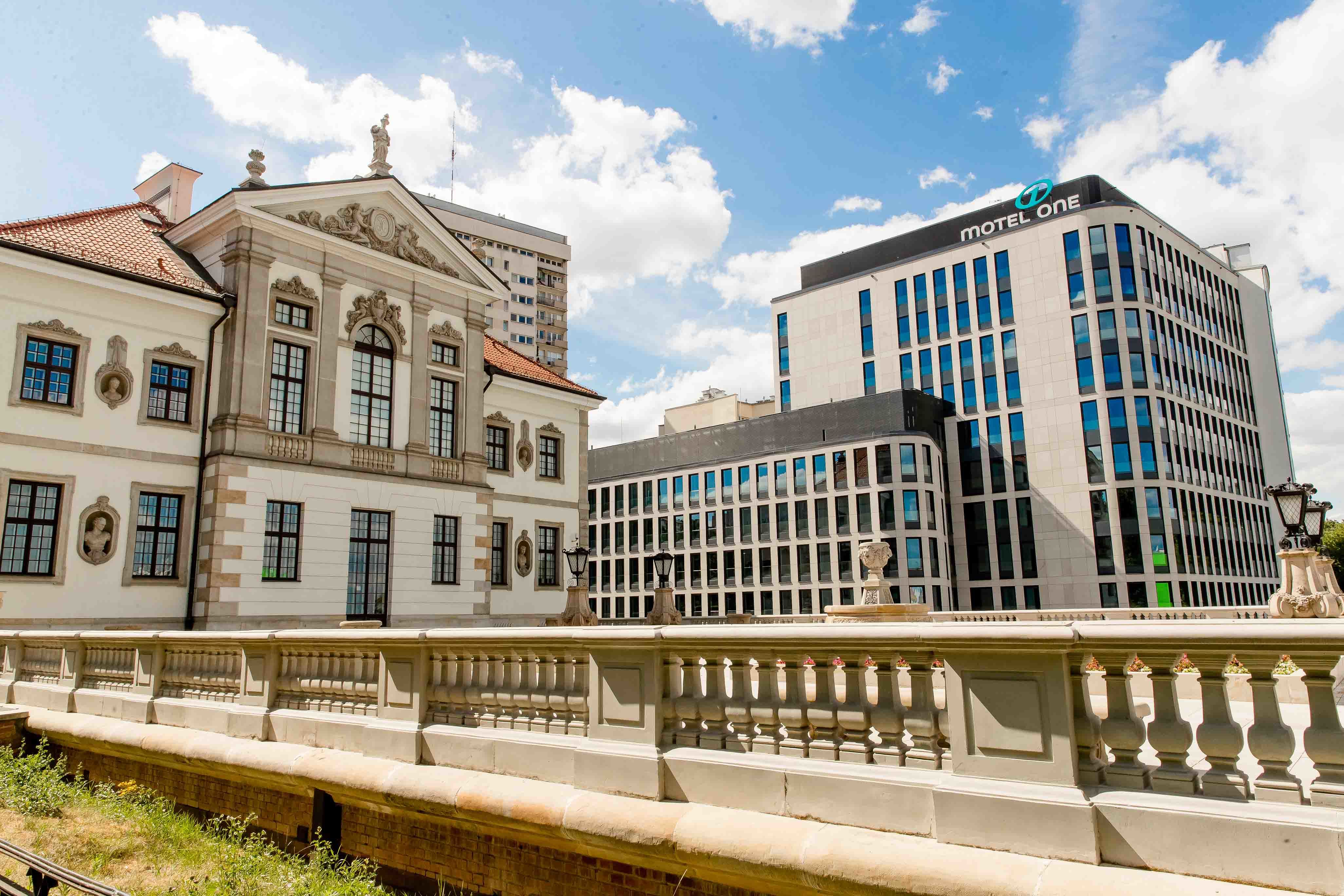 3. Warsaw, Poland
Estimated total cost: €652
Recommended daily budget: €46
Top city attraction (plus cost): Zamek Królewski w Warszawie, €11
The Polish capital is a sprawling metropolis and cathedral city. While not often thought of as such, Warsaw holds its ground with the likes of Rome, Milan and Paris for its architecture and landmarks. Cut almost perfectly in half by the river Vistula, Warsaw is a double-whammy of cutting edge innovation and old world charm.
While over 30% more expensive than either Prague or Riga, Warsaw is also considerably larger – and that means more opportunity to explore and find things you love. There are 295 attractions that cost nothing to enjoy, including museums and galleries. Zamek Królewski w Warszawie (The Royal Castle) is the most popular and highest-rated attraction, and costs €11 to enter.
4. Budapest, Hungary
Estimated total cost: €725
Recommended daily budget: €37
Top city attraction (plus cost): Thermal Baths, €25
For lovers of spas, bars and dining out, Budapest is your ideal getaway. It's a romantic yet easygoing city – a charming mix of oldschool Vienna and hyped Berlin. And while it's small, there's always something going on, and always something good to eat and drink – for little more than pocket change.
This is where Budapest outshines every other city in our list. The food is hearty, wholesome and incredibly cheap – even at the higher end of the scale. Little eateries are everywhere, serving goulash, sausage dishes and warming soups for pennies per serving. Contemporary restaurants offer sumptuous dishes that are surprisingly affordable, too.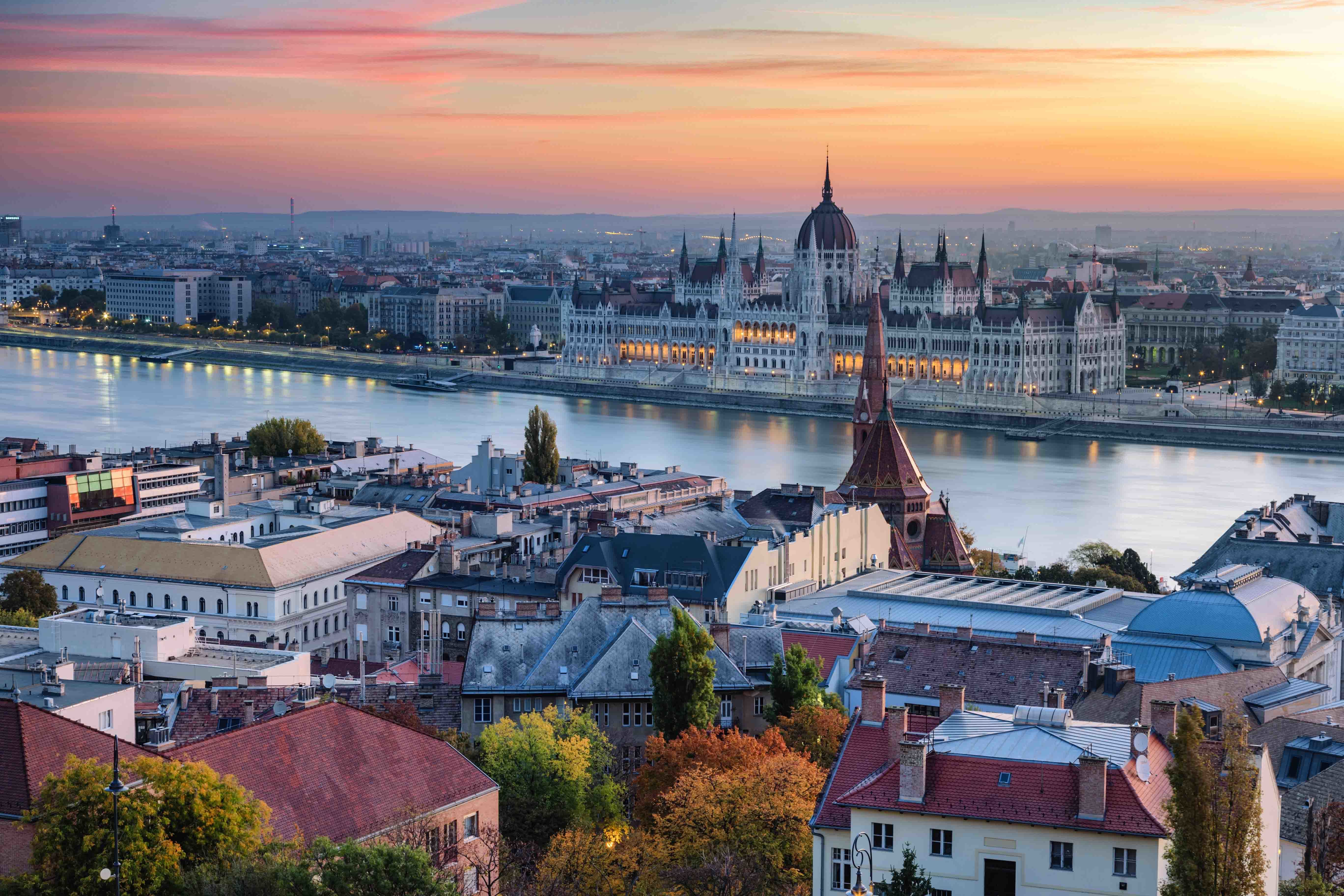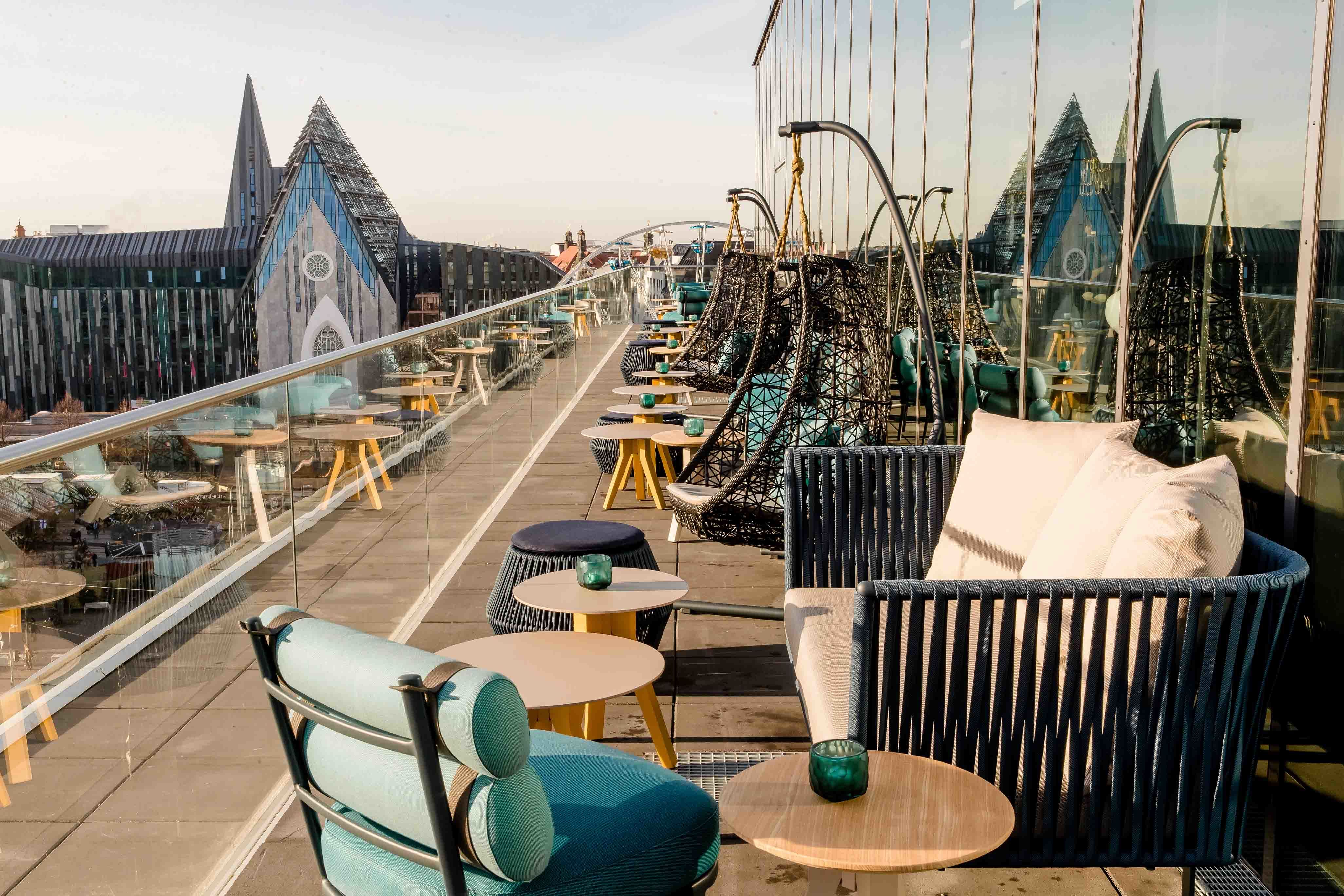 5. Leipzig, Germany
Estimated total cost: €744
Recommended daily budget: €69
Top city attraction (plus cost): Marktplatz Leipzig, €0
While not the official capital city, Leipzig is absolutely the cultural, musical and artistic capital of Germany. Cheap hotels in Leipzig give the city one of the best accommodation price rankings in our list, and the excellent public transport network makes getting around a piece of cake. Speaking of which – you can barely walk a metre without passing a bakery…
People come to Leipzig for a budget break. But they come back because they fall in love with it. The city is surrounded by green spaces and parks, and while there's not a huge amount to do for free, you do get exceptional value considering the quality and the care that goes into attractions here.
6. Bruges, Belgium
Estimated total cost: €754
Recommended daily budget: €57
Top city attraction (plus cost): Basilica of the Holy Blood, €2
As well as being one of the cheapest getaways you can get right now, Bruges is also the most walkable city in Europe – taking just 3,000 steps (29 minutes) to cover as a pedestrian. And if you like beer, then you've found your match. You can get world-class beers for a couple of Euros a piece.
There's more than bargain booze, though. With its scenic canals and gloriously charming architecture, Bruges is as good to visit over the winter months as it is in summer. There's an awful lot to do in such a tiny space, too – with 137 free attractions and many more quirky, unexpected paid-for experiences.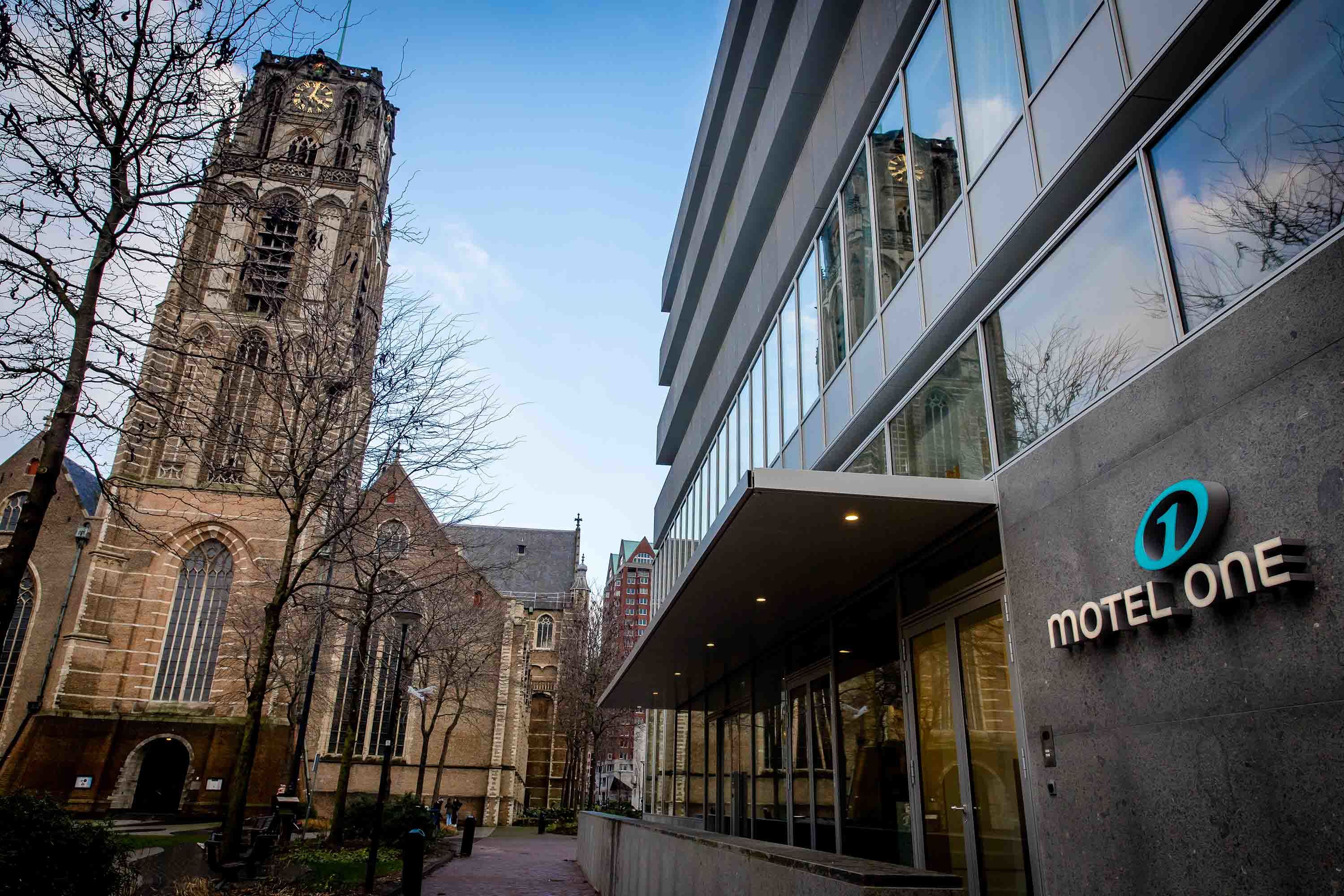 7. Rotterdam, Netherlands
Estimated total cost: €759
Recommended daily budget: €74
Top city attraction (plus cost): Markthal, €0
Often overlooked for the other 'dam, Rotterdam is by no means a step down in liveliness. In fact, if you're seeking energy on your city break, Rotterdam has just the right amount of it without ever becoming overwhelming. They call it "the Dutch Berlin" – vibrant, modern, yet laid back.
The average cost of a budget hotel in Rotterdam is quite low, considering what you get for your money – and that's what helped it break into the top ten in our list. However, the daily budget for food, drinks and adventures is among the highest, so even though you'll save on a place to stay, make sure you calculate your spending money while exploring.
8. Gothenburg, Sweden
Estimated total cost: €788
Recommended daily budget: €69
Top city attraction (plus cost): Botanical Garden, €3
The sweetheart of Sweden. There's just that little dash of Nordic magic in the air that makes Gothenburg so inviting. This is a captivating city that blends rich maritime history with contemporary appeal. You see, Gothenburg isn't just about its past; it's a city at the forefront of innovation and design, with world-class museums, vibrant street art and a thriving foodie scene.
At once picturesque and sprawling, the city remains a significant seaport with a bustling harbour – where ships and fishermen's tales have echoed for centuries. Stroll along the canals, explore the cobbled streets of Haga, and sample freshly caught seafood at the legendary market hall.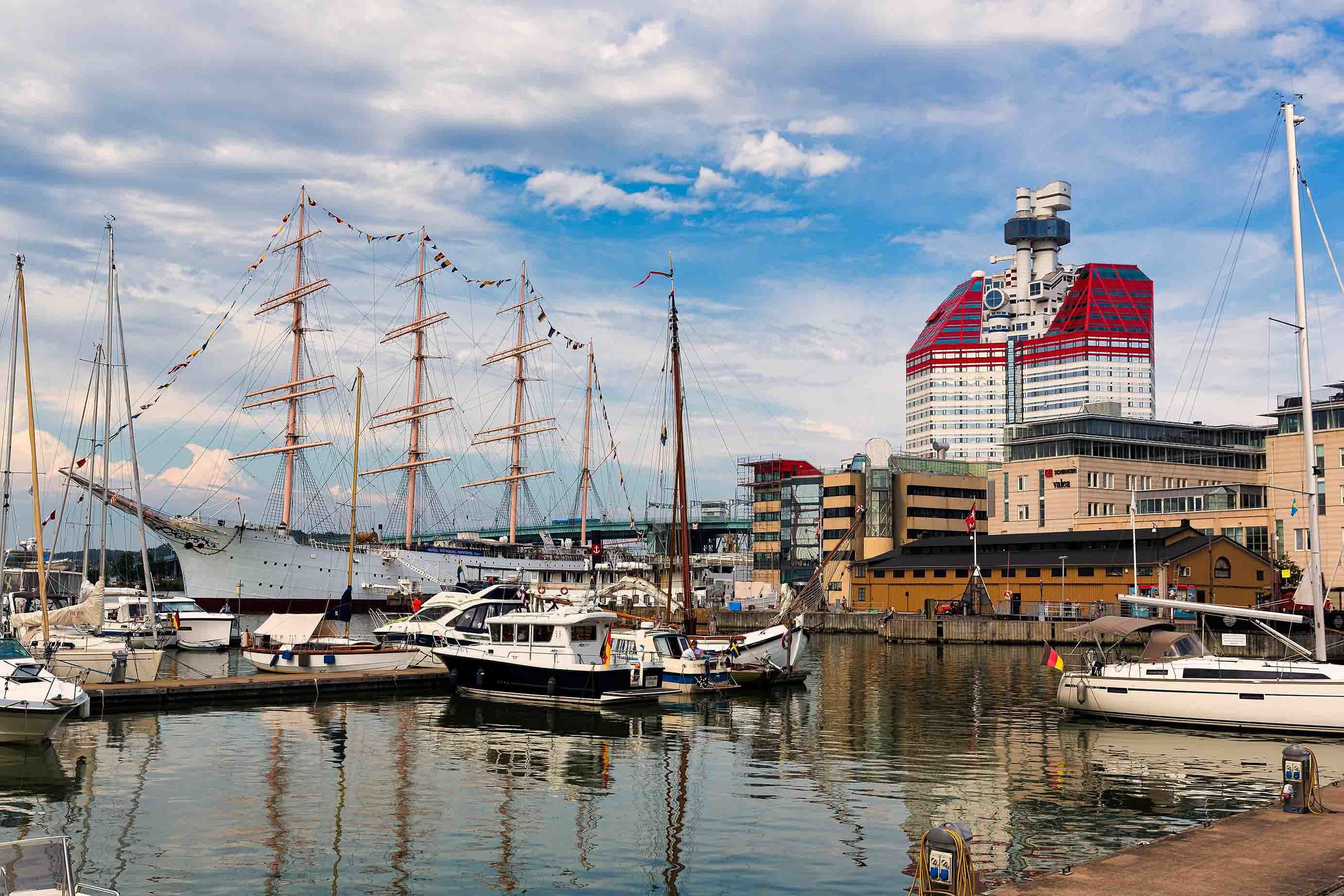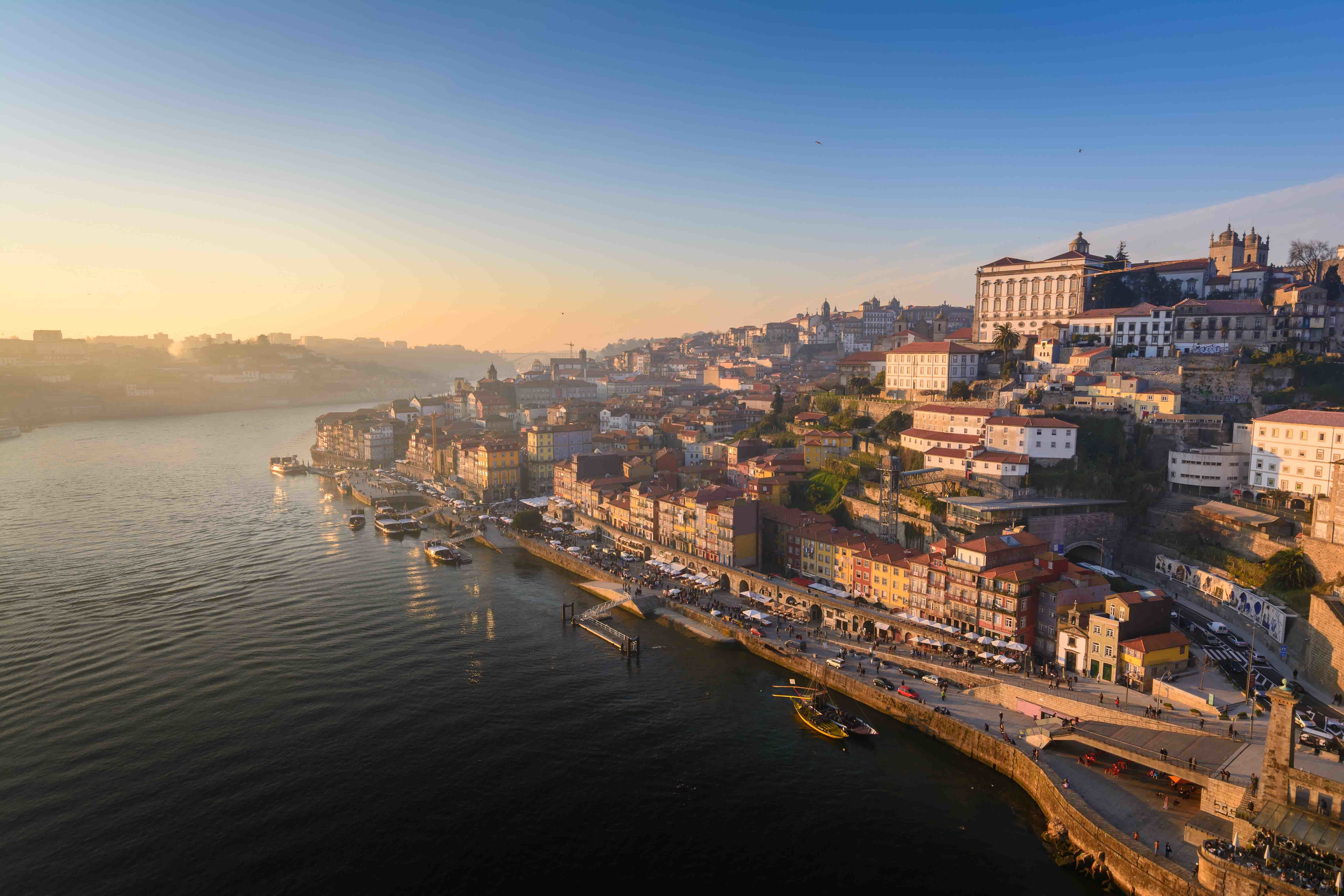 9. Porto, Portugal
Estimated total cost: €855
Recommended daily budget: €54
Top city attraction (plus cost): Dom Luís I Bridge, €0
Porto, perched along the Douro River, exudes old-world charm in the historic Ribeira district and its colourful, terraced buildings. It's a city where wine flows freely – from the famous cellars to local taverns – and where you can admire intricate azulejo tiles and stunning bridges.
It's the cheapest city break on the sunny side of Europe, thanks to well-priced food and drinks, and a multitude of things to do for free. It's great for walks, and public transport costs very little for those treks further afield.
10. Florence, Italy
Estimated total cost: €864
Recommended daily budget: €61
Top city attraction (plus cost): Florence Cathedral, €30
Jumping into the top ten is Florence – Italy's treasure trove of art and history. In this city, every corner tells a story. The cradle of the Renaissance is your journey back in time, where you can admire masterpieces at the Uffizi Gallery, and gaze upon the awe-inspiring Florence Cathedral.
There are hundreds of things to do for free, and although food and drink is on the pricier side, it is typically excellent (even for Italy). We're talking about some of the very best food and coffee in the world – which certainly makes the prices a little easier to swallow!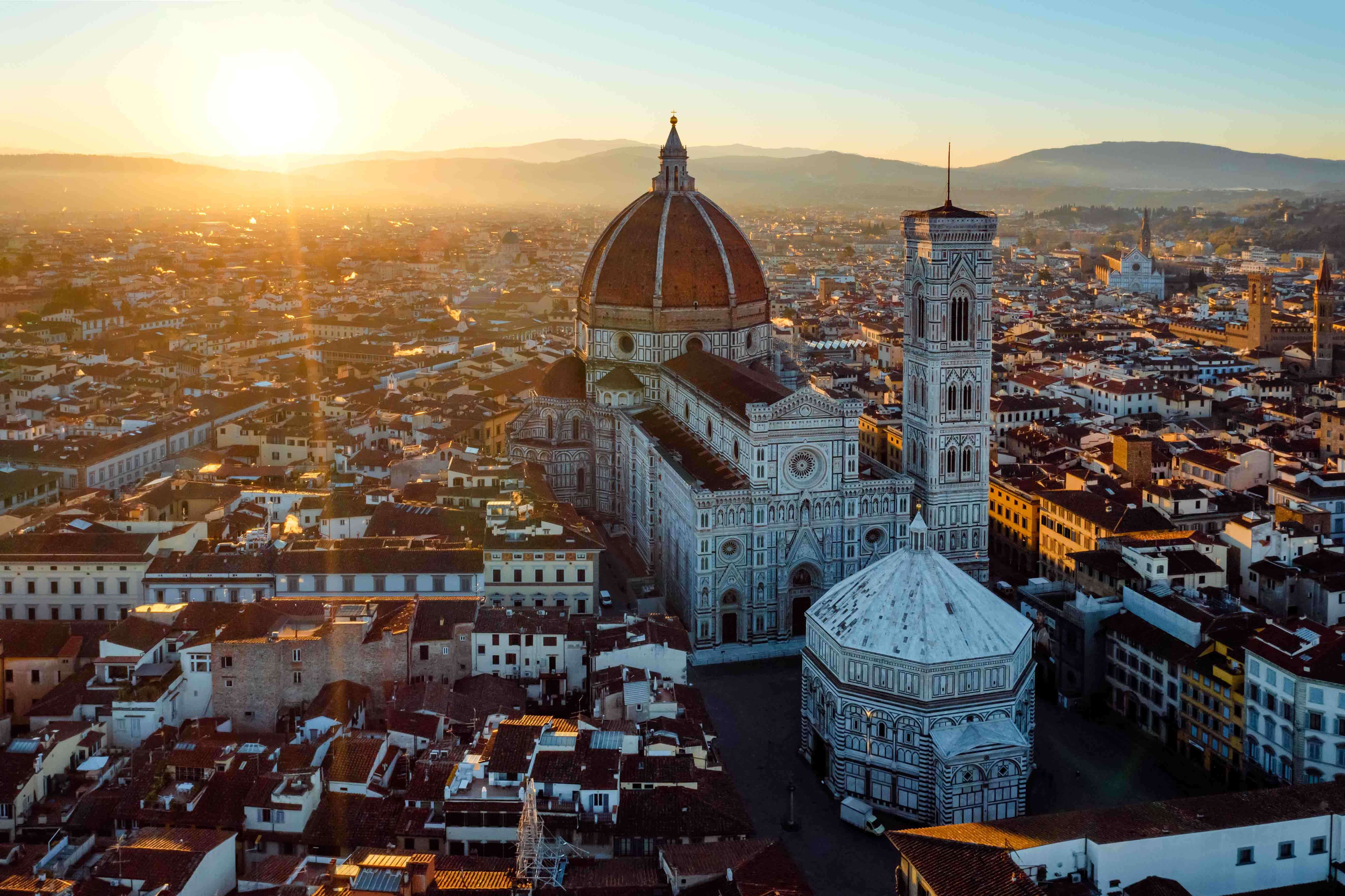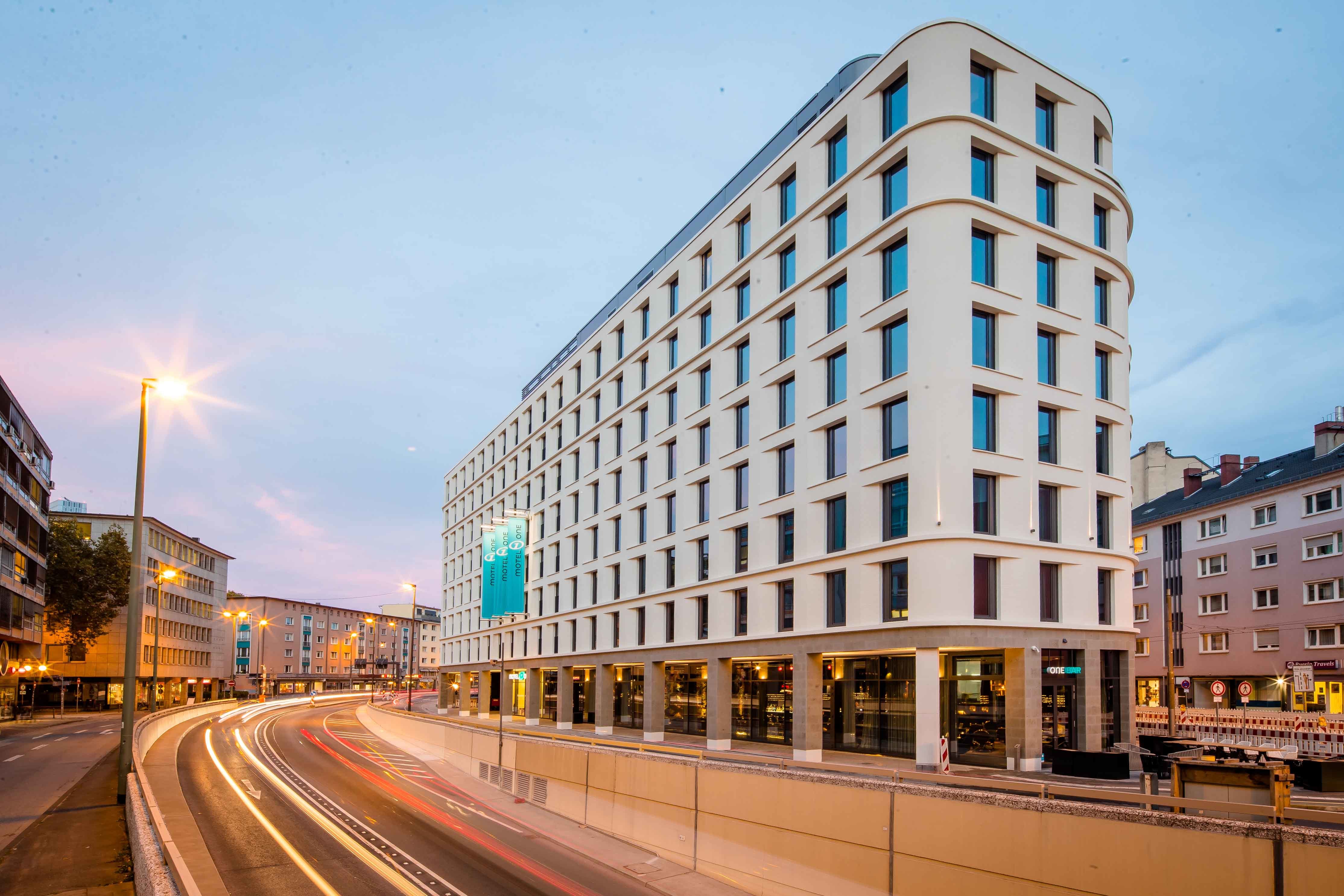 11. Frankfurt, Germany
Estimated total cost: €884
Recommended daily budget: €62
Top city attraction (plus cost): Städel Museum, €16
Frankfurt: a city of contrasts, where a futuristic skyline towers over historic charm. Explore the mediaeval old town, home of the infamous Römer – and visit cultural gems like Städel Museum. As a financial powerhouse, it's a place where business meets culture, and that means variety. The spice of life.
Hotels in Frankfurt are on average cheaper than most other destinations in Western Europe. Food, drink and public transport are all affordable, too. But make no mistake – this is no middle of the road destination. Frankfurt is a living, breathing, utterly beautiful place to visit.
12. Copenhagen, Denmark
Estimated total cost: €892
Recommended daily budget: €70
Top city attraction (plus cost): National Museum of Denmark, €0
The epitome of Scandinavian cool. The city's colourful houses and world-renowned cuisine (like the delectable smørrebrød, an open sandwich topped in a million ways) make it a haven for travellers seeking a taste of Danish hospitality. That's right – Copenhagen captivates with its picturesque canals and culinary delights, but it's the warmth of its people that makes you want to stay. Hygge, with a hug.
Accommodation in Copenhagen, on average, is moderately priced. Bike rentals and eating out will cost you, though. Still, there's a lot to do for free, including the always excellent National Museum of Denmark.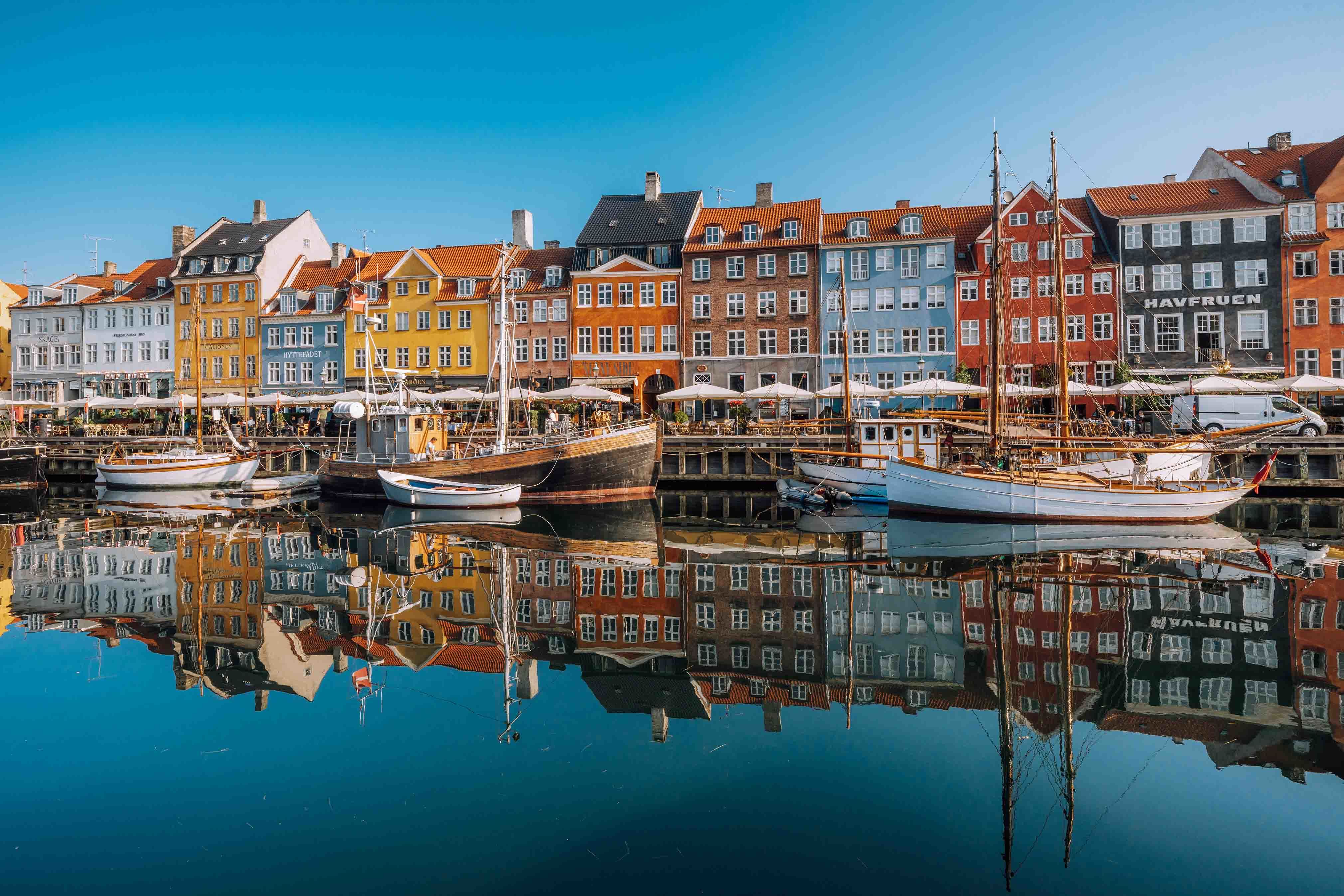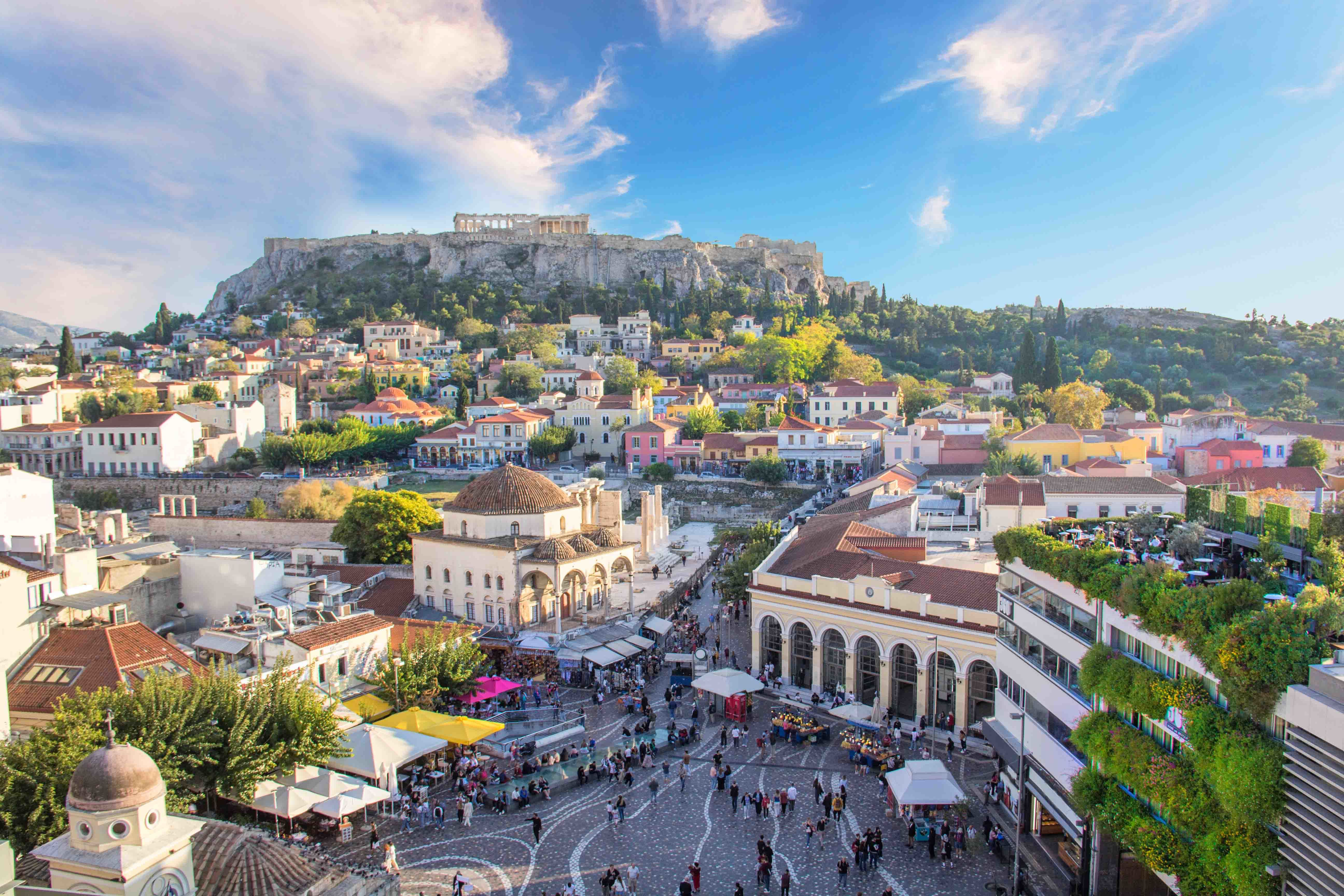 13. Athens, Greece
Estimated total cost: €893
Recommended daily budget: €64
Top city attraction (plus cost): Parthenon, €20
The great, legendary city of Athens – the cradle of Western civilization. Ancient structures coexist with a vibrant modern culture, under the warm Greek sun. The iconic Acropolis, crowned by the Parthenon, stands as a reminder of how the world as we know it came to be.
But that's all ancient history. What's it like today? Well, it's a tourism hotspot thanks to the wonders within. More or less any city of this size and historical significance has that same mass appeal – and that means something for everyone.
14. Berlin, Germany
Estimated total cost: €931
Recommended daily budget: €60
Top city attraction (plus cost): Reichstag, €0
The capital of Germany is etched with historic significance. From remnants of the Berlin Wall to the iconic Brandenburg Gate, the city's past is palpable. But it's not stuck in time – this is about as contemporary as a city can get. With a patchwork of neighbourhoods woven around the waterways that birthed Berlin, the city supports a thriving creative scene, built upon diversity. And that includes the food.
In Berlin, tradition meets avant-garde. The past and present collide in technicolour, and the experience is unforgettable. As the nation's capital, it is pricey – but there are more free things to do here (543, to be precise) than anywhere else in our list.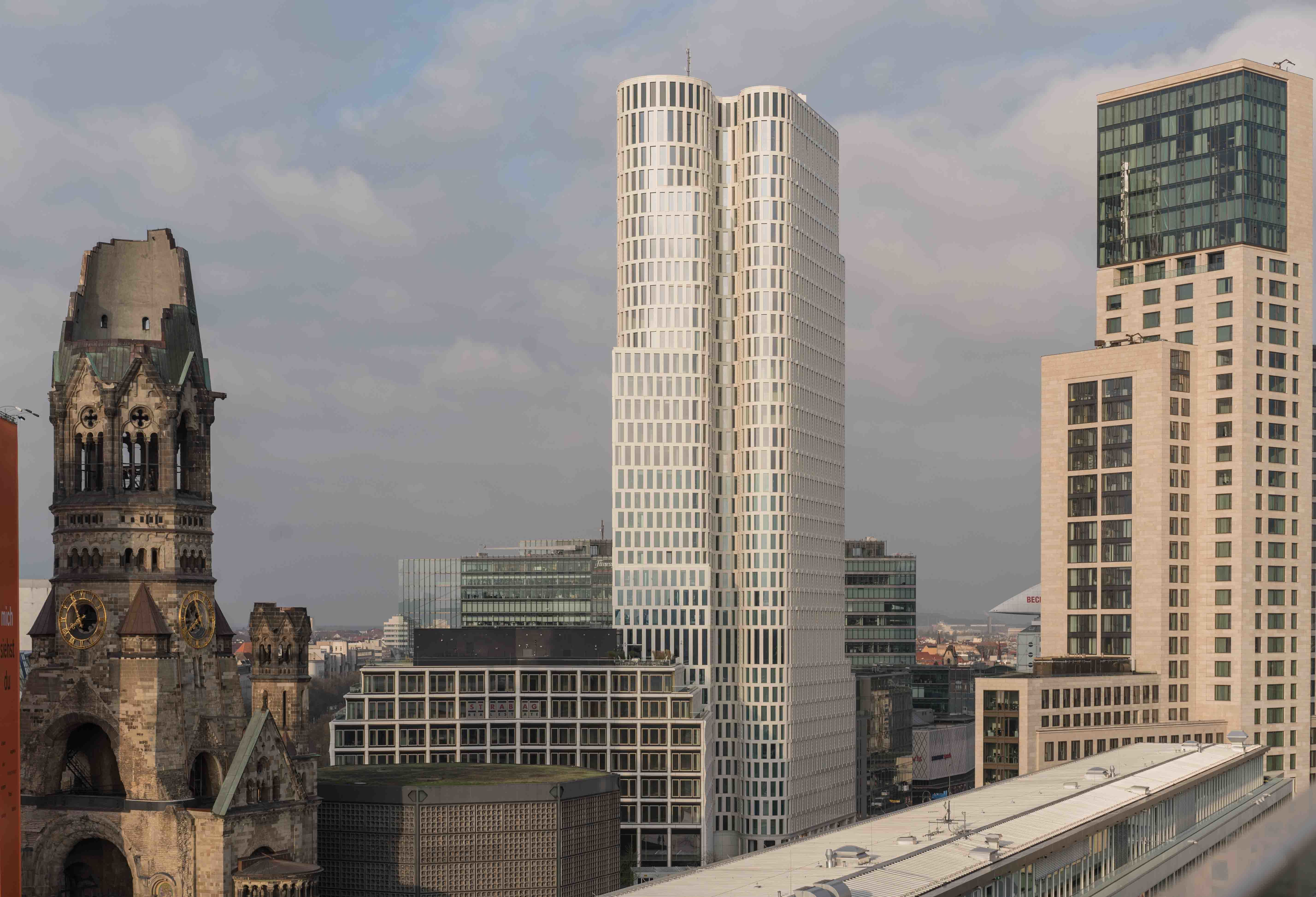 15. Glasgow, Scotland
Estimated total cost: €939
Recommended daily budget: €71
Top city attraction (plus cost): Kelvingrove Art Gallery and Museum, €0
Glasgow is Scotland's largest city, ​​famed for its Victorian and art nouveau architecture. It sits upon the River Clyde, the third longest river in Scotland and was likely settled over 14,000 years ago.
When the sun doesn't shine – and that's basically all the time – Scottish culture shines instead. Glasgow is a hub for arts and history, and when night falls, Glasgow's pubs come alive. Sure, it's priced higher than many other destinations in Europe, but the Scots love a freebie, and admission to galleries and museums is almost always free. And considering its size and economic strength, cheap hotels in Glasgow are easier to find than you'd think.
Methodology
With inflation and the cost of living on the rise, we wanted to find out which European city is the cheapest, all-in, for a four-day city break (excluding flights or rail).
Which city has the cheapest food? The cheapest average hotel per night? And where can your hard-earned vacation money go the furthest?
Sourcing the data
First, we needed to know which city breaks are the most popular.
We checked to see which destinations have the busiest airports, the most flights booked, and headed to Google Trends to see which locations are coming up in popularity. We also included some notoriously expensive and cheap destinations we know of through lived experience – places like Paris and Budapest – at each end of the scale. Now, we needed to find out how expensive these cities are for a four-day trip. And that was going to take some digging.
First, we looked for the biggest cost; accommodation. At Motel One, our prices are an excellent balance of affordability, high service standards and design – but to make things fair, we researched the average costs of a hotel per night, across the spectrum of budget and luxury. We used Trivago's hotel price index, which tracks hotel pricing throughout the year – and got an average pricing for 12 of our cities.Filling in the gaps in this required some deeper digging and calculation. Statista offered minimum and maximum values for some destinations, while Booking.com and SkyScanner have hotel pricing averages buried deep in metadata or hard-to-find pages, which we dug out to add to our list.
We also needed to know what these cities offer visitors – and luckily, we had some prior experience from our work on our Europe's Most Walkable Cities data collection. We used Google Maps and Tripadvisor to find free things to do, plus the top attraction in each city and its price.
What about food, drinks, coffees – and getting around?
Well, the mighty resource that is The Savvy Backpacker has so much information on these areas. It was not perfectly set out for our needs – so, we normalised and cleaned it up, filling in the gaps with information from budgetyourtrip.com, hikersbay.com and cost of living websites. We also got public and airport transport information from tourism board websites and local transport authorities, as well as ground transfer companies where no other options were available.And bike hire prices were either obtained from city bike initiatives, rental apps, or local hire companies. Around 60 data sources were used – all of which are available on request.
To put it all together, currencies were all converted to EUR using Google or XE.com. We then developed a formula for finding the cheapest four-day city break – by combining four nights in a hotel plus two meals per day, a coffee, a beer, going to the top attraction once, hiring a bike for a day – plus an additional €15 per day for souvenirs or an extra-special meal at some point.