The Highland highlights
Our Motel One Glasgow takes you on a unique journey
The Orient Express is known, at least by name, by nearly everyone. But did you also know that Glasgow Central Station is the door to one of the most spectacular railway lines in Europe? The West Highland Line takes you straight into the Scottish Highlands. Wild, pure and seemingly from another era, this landscape is best experienced by this marvellously slow train journey. Railway romance and idyllic landscapes accompany you along the entire route – and the same combination of vistas and impressions also awaits you in Motel One Glasgow.
Welcome on board!
In our Motel One Glasgow, located directly next to the Central Station, all the signals are green for go. (Well, turquoise, grey and brown. But you know what we mean...) So get your tickets ready – we are taking you on a romantic train journey through the Scottish Highlands. And you don't even need to leave the hotel...
The photography duo Louise Scullion and Matthew Dalziel travelled along the West Highland Line themselves and captured the journey in a series of striking photographs. These atmospheric and detailed images can now be found in the interior of our design destination and are guaranteed to inspire you.
Scullion & Dalziel
Step right in and take your seat
To make sure you don't miss your train to the heart of Scotland, we've got you covered: arrival and departure times at Glasgow Central Station are shown on a screen in our hotel lobby.

Where will the journey take you? You can find out by reading the brass letters on the wall behind reception, which spell out all the stations on the West Highland Line. The oversized Wireflow-Lineal lights by VIBIA above the bar also evoke associations of railway tracks and points.
We have already left the urban train station behind us and are rattling through Scotland's green landscape. Look, over there! In the lounge you can see a herd of sheep grazing on the heath. Fur-covered chairs by Baxter and woolly sheep-shaped stools gently trot over carpets by Nanimarquina, which have patterns mirroring the moorland. The best view of the hoofed animals is from our 'train compartment'. While you sink into the wide leather bench by Baxter, with the 'Spectre' lights by Quasar hanging above reminiscent of high-voltage power cables, you can let landscapes and villages roll by in your mind's eye.
Glasgow Styling-Favorites
It is well known that travelling makes you hungry, so before you begin your adventure, you should start the day with a good breakfast. You can take your breakfast tea while enjoying the cosy atmosphere, surrounded by wood panelling – and without being jolted by a train! Steel shelves decorated with hat boxes and binoculars, as well as armchairs by Erik Joergensen and Freifrau arranged like seats in a train carriage, lay down the tracks for a charming combination of travel romance and the related industrial technology.
High time for our next stop...
...a detour to our on-board restaurant, the One Bar. Here, you can let your eyes wander over more huge photographs by Scullion and Dalziel in true local style – with a glass of good Scottish whiskey. The colours of the images and the way they play with the contrasts of nature and technology are also mirrored in the furnishings. Carpets in earthy tones meet elegant barstools with Chesterfield-style upholstery and a bar counter made from antique oak, cased in steel frames and industrial screws.
Have we piqued your curiosity for a journey of discovery? Then it's time to get on board: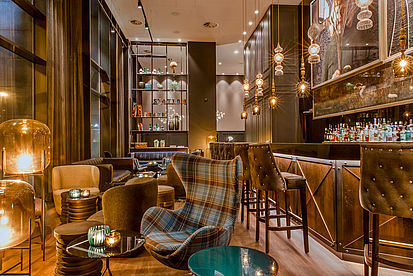 Book Glasgow here!