'Sea' what all the fuss is about!
...in our Motel One Barcelona-Ciutadella
First, the numbers: each year, more than 7 million tourists visit the Catalan capital, the metropolis home to Gaudí's masterpieces, countless tapas bars and La Rambla shopping avenue. These sites' ranking on your to-do list may vary, but they're all musts: they are all part of the reason the major city is such a beloved travel destination.
Its unbeatable location on the Mediterranean coast is another draw – what more could you want? This dream combination makes it the ideal spot for fans of both city trips and beach holidays. And with Motel One, you don't have to choose between the two!
All natural
Our Motel One Barcelona-Ciutadella is right in the middle of 'Barna', between city chic and beach vibes. It is situated directly next to the Parc de la Ciutadella, which influenced the hotel's design, in addition to giving it its name. Here, the flora and fauna (the park is also home to the city zoo) aren't just outdoors, but also cheerfully creep, flutter and climb across our walls, floors and ceilings.
Spanish illustrator Lara Costafreda drew inspiration from the park when creating her watercolour-style wallpaper, which decorates the back wall of the reception. Alongside plants and animals, she also incorporates the park's architectural elements, such as fountains, pillars and lanterns – some of which are still left over from the 1888 World's Fair.


The green design theme is underscored by Bocci suspended lamps reminiscent of flower bouquets, our classic egg chair in fresh botanical prints and artfully woven chairs by designer Patricia Urquiola. You'll find yourself right in the middle of the (urban) jungle. Pssst, did you hear something rustling...?
More info in our art flyer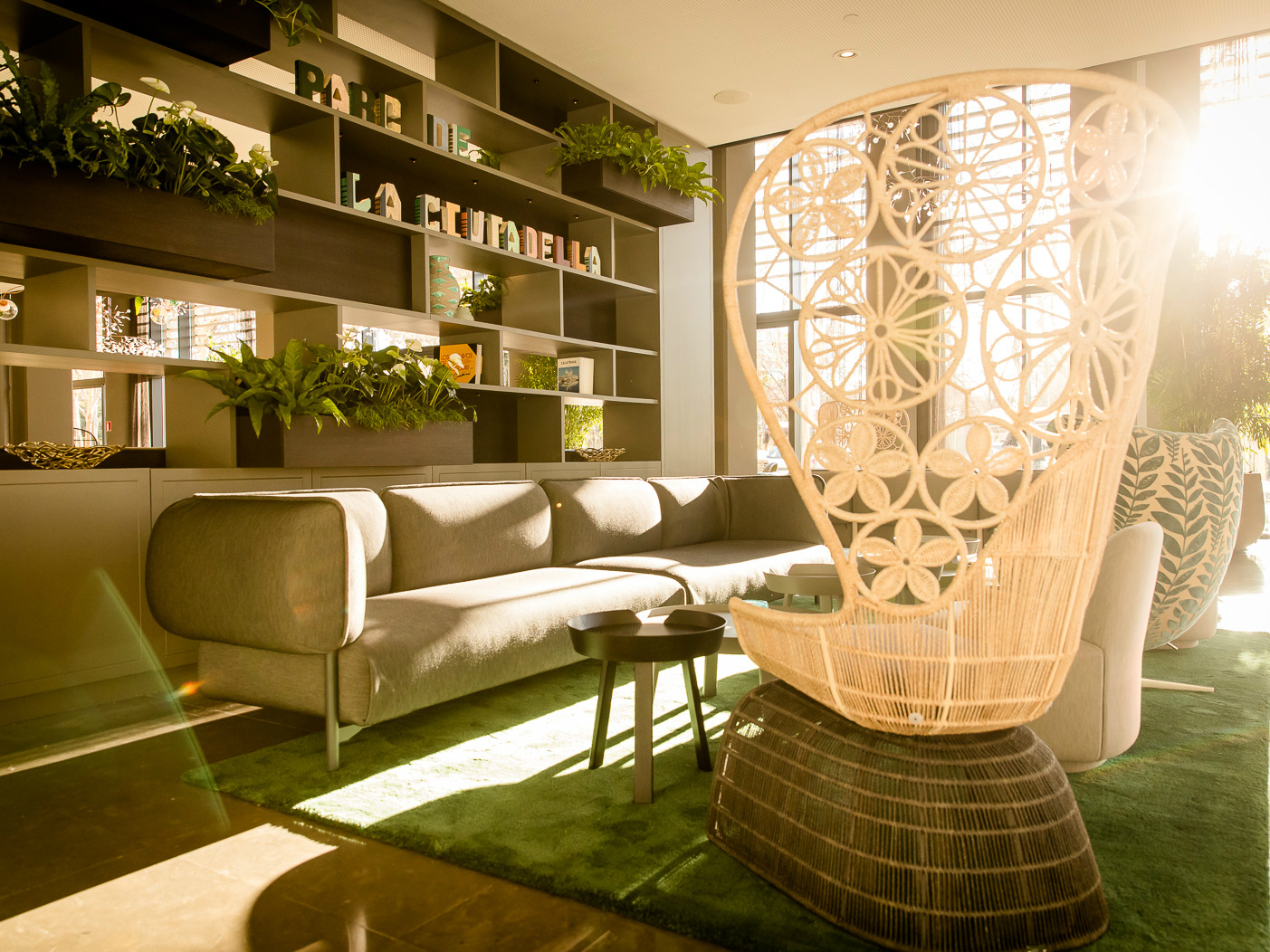 Even more comfort
The interior of the One Lounge is also distinguished by natural colours, shapes and surfaces. The large 'Tender' sofas by the Italian design label Moroso invite you to take a siesta between the ferns and palm trees, and the soft 'Tres Green' carpet by Nanimarquina allows you to walk as if you were in a meadow.
Discover more Spanish Designs
Speaking of siestas:
A green oasis of relaxation also awaits you in your room. Lara Costafreda brings a jungle feeling to your rest zone through wall illustrations at the head of the boxspring beds – with a soothing side effect: green tones create a tranquil atmosphere and ensure that you enjoy a rejuvenating sleep!
And all that in the middle of the city. Be sure to take Costafreda's invitation, 'Let's get lost!' to heart and lose yourself by meandering the streets and alleyways with no goal in mind. Who knows what surprises you might come across?
A tale of tiles
You've surely also noticed the cheerful tile mosaic at the reception. It is hard to imagine Spain without its 'Azulejos', decorative painted tiles left behind by North African settlers that ruled the Iberian Peninsula for a period starting in the 8th century.


Our Mediterranean patio, which also features olive and lemon trees, wouldn't be complete without these gems, which offer a truly Southern European charm – the wall tiles are originals from the architect and artist Gaudí and create a stylish backdrop while you relax on the lounge furniture by Kettal, a family-owned Spanish company.
Or simply take a seat in our bar – or rather, bodega! That's right, our bar is designed like a typical local wine bar with its classic ornamental tiles. Naturally, we don't just offer wine – and the hanging chairs by Freifrau create a swinging atmosphere regardless of whether you have a drink in your hand.
High Time
Before you conclude your sightseeing for the day, you shouldn't miss the installation by artist Anais Senli, which is several metres high. Our interior designer first learned about Anais at an exhibition at the renowned Sala Parès gallery – where Picasso once showed his art. The piece she created for our hotel, 'Peya', is made of paper, various sorts of woven metal mesh and metal foil. Imagination knows no bounds when you observe its floating leaves, blossoms and branches – which weightlessly continue as shadows on the walls and are reflected in the expansive front windows.
Looking to reach even greater heights? Then join us at our rooftop bar. Here you can look at the sea over the rooftops of Barcelona – perhaps sipping a glass of Spanish vermouth while enjoying the view, life and everything else that comes to mind:
¡Salud y benvinguts a Barcelona!
Take me to Barcelona