Experience Leipzig: no lack of lakes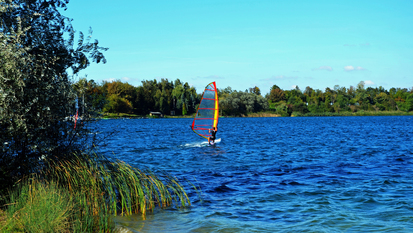 Anyone looking for leisure activities surrounded by nature is sure to be in their element in Neuseenland. The former lignite mining area around the city has long since been transformed into a beautiful local recreation area. Hiking, cycling, stand up paddleboarding, diving or a boat trip – there is plenty to discover on and around Leipzig's ten (and counting) lakes.
Get a taste of Leipzig – try something new!
Kokopelli
By travellers, for travellers: Kokopelli offers a relaxed atmosphere for globetrotters, including guidebooks to dip into and travel talks for inspiration.
Handbrotzeit – der Laden
Handbrot – warm bread stuffed with cheese and more – is this unique café's speciality.
White Monkey – Pizza Lab & Bar
As you might expect from a 'pizza lab', you'll find some unusual creations here such as Thai curry pizza, though they also offer the classics like the margherita pizza. Served with milkshakes and cocktails.
Toni's Organic Icecream
The ice cream offered by this small organic ice cream parlour is truly out of the ordinary, with flavours ranging from pineapple and parsley to pink peppercorn, from vegan to gluten-free.