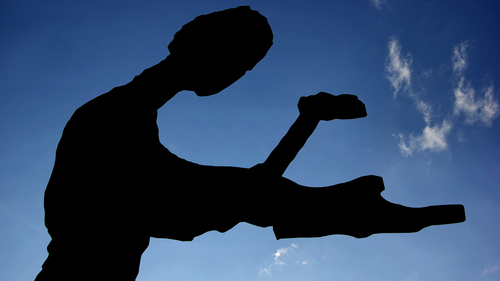 Schirn Kunsthalle
The Schirn has built up an international reputation and offers a surprising, constantly changing mix of exhibitions showcasing various styles.
Galleries
In addition to the numerous galleries distributed throughout the city, a lively gallery district focusing on contemporary art has developed on Braubachstraße and Fahrgasse in the city centre.
For history buffs
Frankfurt's 'new' old town
Once upon a time, Frankfurt wasn't just known for its ultra-modern skyscrapers, but also for its old town. Until World War II, one of Germany's largest timber-framed old towns stretched through the heart of the current finance hub. It was a place where kings were chosen, emperors crowned and the ideas of poets and philosophers like Goethe and Schopenhauer celebrated. In 2018, Frankfurt managed to retrieve a bit of its history through the 'DomRömer Quarter' project, which oversaw the erection of a 'new' old town across 7,000 m2 between Frankfurt Cathedral and the Römer.
Using original materials, and with an incredible attention to detail, 15 reconstructions of historical buildings and 20 contemporary new buildings have been developed that display typical architectural elements of the former old town. You can explore the crooked alleyways and charming squares of the neighbourhood along with its restaurants and small boutiques on your own, with a guided city tour or even virtually here.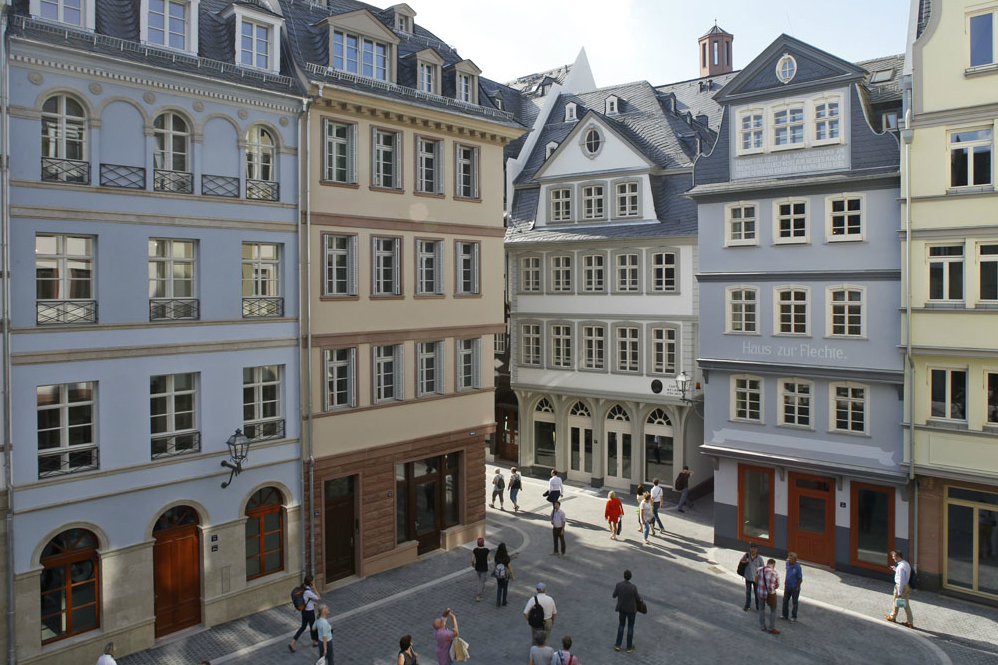 Café Sugar Mama Treat yourself to homemade cakes and other specialities in this cosy café, where love has gone into both the food and the décor. The café hosts small concerts here once a month, the 'Sugar Mama Sessions'.
Maxi Eisen A stylish, US-inspired deli that draws in visitors with its pastrami sandwiches during the day and drink creations at night.
Aroma
A popular Lebanese food stand where guests stand in line for what is likely the best falafel in the city – which is why there are two branches.
Naschmarkt am Dom
This sweets oasis offers more than just tasty snacks: you can also browse for delicious gifts for loved ones at home (or even for yourself!).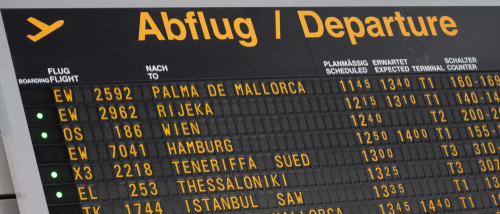 Frankfurt-Sachsenhausen
No visitor to Frankfurt should miss out on the famous local Apfelwein (apple wine). Sachsenhausen, the 'Ebbelwei' district to the south of the Main, offers an array of Apfelwein establishments and is just a 20-minute walk from our hotel. If you'd like to explore other areas while tasting Apfelwein, you can hop on the 'Ebbelwei Express', a special historical tram line that stops in different neighbourhoods.
Experience Frankfurt Airport
Not just for frequent flyers: various tours offer an inside look behind the scenes at Germany's largest airport.
The English Theatre Frankfurt
How marvellous! Enjoy an entertaining mix of classical and contemporary theatre at the largest English-language theatre in mainland Europe. You can find the current programme here.
Red light green light
When Frankfurt's main railway station opened in 1888, it was one of the most modern train stations in Europe. Over 120 years, the surrounding neighbourhood has developed into a multicultural microcosm where more than 100 nationalities are represented. The Bahnhofsviertel is much more than a red light district: thanks to a host of cafés, bars and clubs, it is now one of the city's hotspots and can be explored on guided tours like Frankfurt Tours or Mattner Tours.