Hotels Mannheim
Welcome to the city of squares
THE MANY FACES OF MANNHEIM
Mannheim is as diverse as its countless names: the square city with the water tower. Art Nouveau central. University city with the Baroque palace. Trade city with one of the most significant inland ports in Europe. City of inventors and the cradle of mobility. UNESCO City of Music with the Popakademie, University of Music and Mozart. A city of drama with the oldest community theatre. Breathtaking hotels and ice hockey. City of entrepreneurs with brains, heart and a huge amount of potential.
Since it was founded, Mannheim has been shaped by people of varying heritage. It has remained true to this open and international atmosphere ever since. Its various influences and lifestyles give Mannheim a productive, multifaceted fabric, whose heart undoubtedly lies in the city centre, which is known as the Quadrate (squares) – and that's where you'll find our hotel.
BOOK YOUR AFFORDABLE HOTEL IN THE CITY OF SQUARES
In the centre of Mannheim, right on Paradeplatz with its bronze fountains and a stone's throw from the main train station, is where you'll find the beating heart of the hotel. The largest park within reach of the hotel, Luisenpark, is no more than a thirty-minute walk from the forecourt of the hotel.
If guests need tips on sights like the National Theatre, or a sophisticated or reasonably priced restaurant, all they need to do is head to the hotel reception. Our design hotel will always be happy to point you in the direction of the top spots, which will of course also embody the core values of our hotel. When you stay at our design hotel, the rooms with free wifi aren't just a comfortable home away from home, they're also affordable.
Or as our guests put it (96% positive reviews): 'Great hotel, very nice staff. Good breakfast.' – 'Friendly and helpful staff. Clean hotel and thorough room cleaning.' – 'Great hotel in the centre of Mannheim!' – 'Really central hotel, easy to get to from the station.' – 'Lovely big hotel with modern design.' – 'Centrally located hotel, all sights can be discovered nearby.' – 'Very clean and pleasant, absolutely perfect hotel interior.' – 'Great lounge and bar.'
Interested? Book now to secure your room with wifi in our design hotel in the heart of the city. Does 'design hotel' make you worry about the price? Don't panic! We believe our design hotel combines low costs for nightly accommodation with excellent hotel services. Give us a try!
GREEN CITY ON THE RIVER
What awaits you outside the hotel in the old town of Mannheim? The path to free time is short and affordable, making it a core element of the quality of life that shapes cultural life in particular. The city on the Rhine, located between the Palatinate Forest and the Odenwald, combines urban living and leisure activities in the form of opportunities to relax and unwind. Almost one-third of the city is made up of nature reserves and conservation areas and almost untouched natural environments. The previously mentioned Luisenpark is a green oasis in the heart of the city. Spanning an area that is almost as big as Mannheim's city centre, former military land has been transformed into two new districts that are leading the way in terms of ecology and urban development. It is the only project of its kind in an inner-city space.
CITY OF CULTURE AND FESTIVALS
Art and culture are driving change on the Rhine – and as a city of inventors and entrepreneurs, this approach perfectly suits Mannheim. With its unique Popakademie and an innovative music industry, the city was promoted thanks to the designation as a UNESCO City of Music – only a few cities in the world have received this title. Mannheim eats, breathes and sleeps culture(s). No matter whether you're a theatre lover or a techno fan, an art expert or a film fanatic, a jazz aficionado or an explorer: culture in Mannheim is particularly diverse, often cheap and offers options for all tastes.
Enjoy Jazz, the International Film Festival, Time Warp or Maifeld Derby: Mannheim is the city of festivals and music. Internationally renowned stars are regulars here and attract people from all over Europe. Thanks to venues like the Kunsthalle and the Reiss Engelhorn Museum, Mannheim succeeds in providing important platforms for trailblazing and moving art. The SAP Arena, the largest event space in Baden-Württemberg, ensures sports and entertainment fans have enough space for spectacular experiences.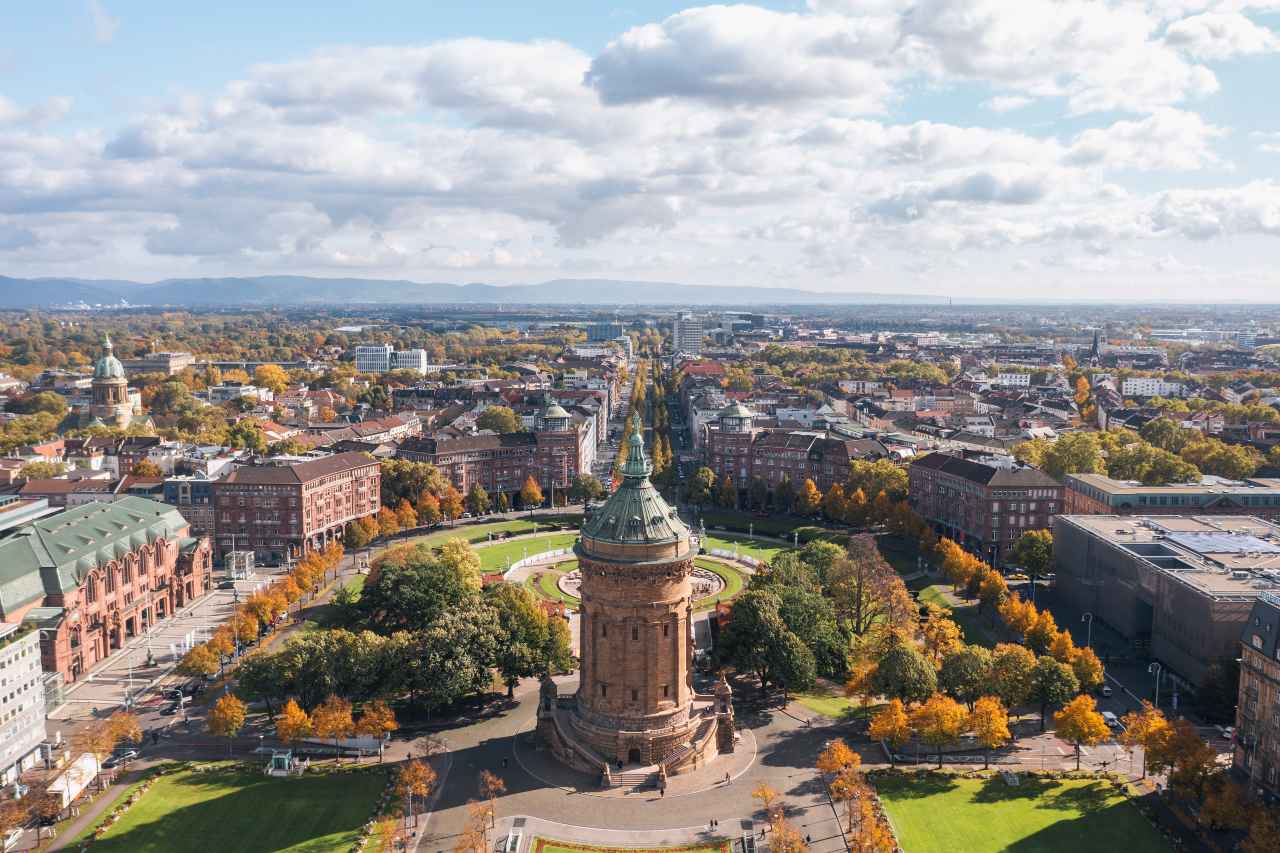 CITY OF SHOPPING AND EXPERIENCES
Mannheim is a highlight in southern Germany in terms of shopping and experiences. The cultural diversity of the old town and newly developed districts also provide space for special experiences. Mannheim has a modern offering for both convention attendees on business trips and those who come for the shopping. Everyone that visits is surprised by the urban charm confined between two rivers. In the Planken area, you'll find one of Germany's most innovative, diverse and modern shopping destinations.
With around 2,000 retail stores and 220,000 m² of shop floor, Mannheim is one of the most shopping-focused cities in Germany. Outside the hotel, lively districts are waiting to be discovered, along with city parks and nature areas. As a city of culture, a shopping mecca and a nightlife hotspot, Mannheim has a lot to offer in a small area. Numerous award-winning restaurants, impressive hotels and international cafés and bistros both in the city centre and outside tempt visitors on their travels to take a break.
GRÜNDER- UND INNOVATIONSSTADT
CITY OF ENTREPRENEURSHIP AND INNOVATION
People from over 170 countries have shaped the future in this city. Bikes, cars and tractors were invented here, meaning Mannheim is the cradle of modern mobility. Various research institutes, new creative start-ups and leading global players represent the strong economic power of the region. With eight industry-specific start-up centres, around 300 start-ups and 1,000 employees, Mannheim is Baden-Württemberg's largest and fastest-growing location for start-ups.
See for yourself: whether you're staying for a business trip or a city break that needs to be child-friendly, our new design hotel near the train station offers value for money like few other hotels. Book your stay with us now!
Like the price · love the design
Your online benefits

*Not applicable during exhibition and event periods