Around the world, COVID-19 restrictions are being relaxed. We have updated our certified Health & Care hygiene concept accordingly.
Examples of restrictions that are being lifted include the requirement to wear a mask, restrictions on access and testing requirements.

However, we are prepared to fully reinstate our Health & Care concept if the COVID-19 situation gets worse or if legal requirements are reintroduced.
In the meantime, you can rest assured that we maintain stringent cleanliness and hygiene standards, so that you won't have to worry about a thing during your stay. The only thing that should be contagious around here is our friendliness!
Health & Care, the Motel One hygiene concept (last updated: April 2022)
Restricted access and social distancing rules
There is no longer a limit on the number of people in the lobby. We recommend that guests and employees continue to maintain a 1.5 m distance from others.
Requirement to wear a mask
The general requirement to wear a mask is being removed – our employees and guests can themselves decide to wear a face covering if they wish.

Regular tests
Our employees regularly test themselves for COVID-19.

Hand hygiene
Hand sanitiser is available in all the entrance areas, the lifts and the One Lounge.
Comprehensive virus control and disinfection via technical fogging
The already high cleaning standards maintained in all hotel areas have been revised and supplemented by additional disinfection measures and stringent rules. If necessary, we use fogging machines and disinfectant that has been tested in hospitals to disinfect surfaces in the rooms and the One Lounge.
Contactless payments
Feel free to pay by credit card at the hotel, or book on our website and pay online. We'll send you your receipt as a PDF via email, meaning you'll only have to visit reception to pick up the pre-prepared key card for your room.
One Lounge and breakfast
We are currently offering our full range of services in our bar and at breakfast. However, our services are always dependent on official restrictions, and we update them in line with the changing rules.
If for this reason we are ever unable to offer you a breakfast buffet, we will make every effort to provide table service or prepare a 'Breakfast to go' for you.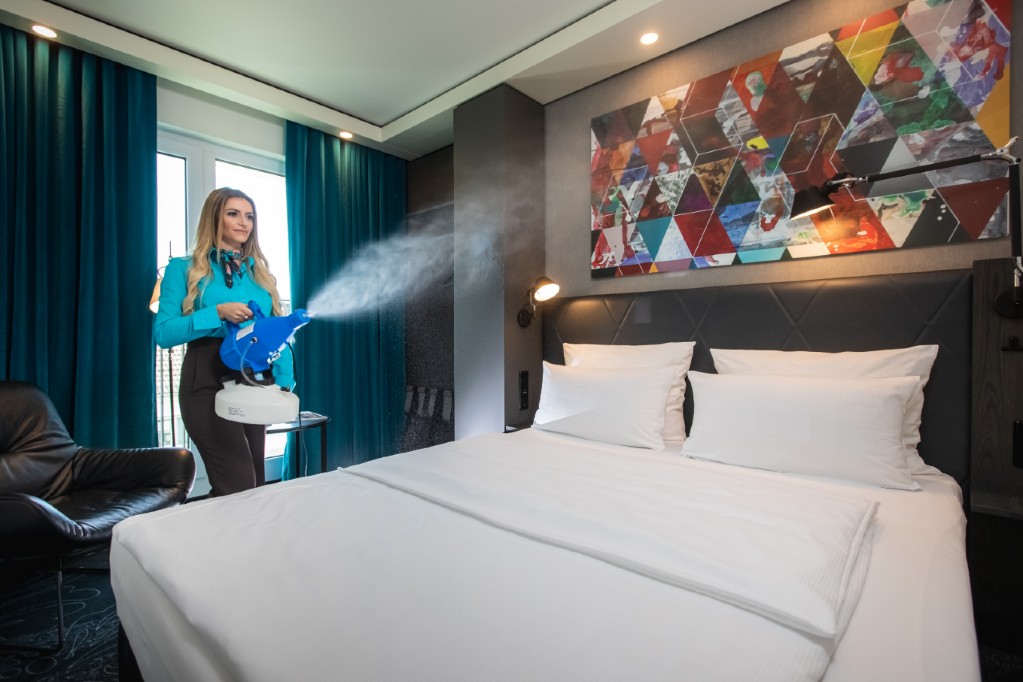 And what does that mean exactly?
Cleanliness under new aspects
Motel One has set up a Hygiene Taskforce, headed by Daniel Müller, Co-CEO of the Motel One Group, which focuses on the creation, implementation, certification and evaluation of this new hygiene strategy. "The health and safety of our guests and employees is our top priority and therefore it was natural for us to develop and implement a comprehensive hygiene strategy in these challenging Covid -19 times", says Daniel Müller. The already high standards of cleanliness have been revised in recent weeks and expanded into a comprehensive hygiene strategy with the involvement of external specialists. Always in close coordination with the specifications of the authorities of the individual countries and the recommendations of external institutes and associations. Every step, every guest contact, every detail, every previous standard was put to the test. The result is a comprehensive hygiene concept with cleaning and behavioral instructions that minimizes the risks for guests and employees alike and increases their safety.
Disinfection in public areas
Covid-19 has raised awareness of the cleanliness of surfaces that require intensive contact. In public areas, the already strict cleaning protocols have been supplemented, requiring surfaces to be treated even more frequently and thoroughly with disinfectants as used in hospitals.
Perfect cleanliness and hygiene in our rooms
In the rooms, the already strict cleaning guidelines were once again supplemented. All of our cleaning staff is required to wear mouth-and-nose masks, change gloves and all cleaning cloths after each room and clean and disinfect all surfaces in the room with virucidal agents.
Improved technologies for virus control
After the room has been checked by the housekeeper, a fogging device with hospital-grade disinfectant is additionally used for the entire room to disinfect surfaces. These devices quickly clean and disinfect entire areas and can be used effectively in a hotel for cleaning and disinfecting guest rooms, against viruses, allergens, mould spores and other air and surface contaminants.
Guest contact - warm and friendly, but from a distance
Keeping your distance, hand disinfection and wearing masks are the most important measures to ensure the safety of our guests and staff in daily dealings. In the areas in front of the reception or the lifts, distance markings have been placed and additional glass protection panels have been installed at the reception. In the One Lounges, we also ensure that there is sufficient distance and the tables and seatings are marked accordingly. In addition, all employees wear masks and guests are also asked to wear them. Disposable masks are provided to our guests free of charge. Hand disinfectants are for example placed in the entrance area, in the lifts and in the areas of the One Lounge.
New rules also "behind the scenes" determine food safety and delivery traffic
The rules and requirements for handling food were already very high and were strictly monitored. Now the measures have been extended and all employees have been trained in the additional hygiene and disinfection practices. Currently, Motel One offers - as long as the gastronomic possibilities are limited - a choice for a breakfast to go. The company is also in the process of developing new concepts for breakfast buffets. New rules of hygiene and disinfection have also been laid down for the delivery area.
Stay safe - stay with us!